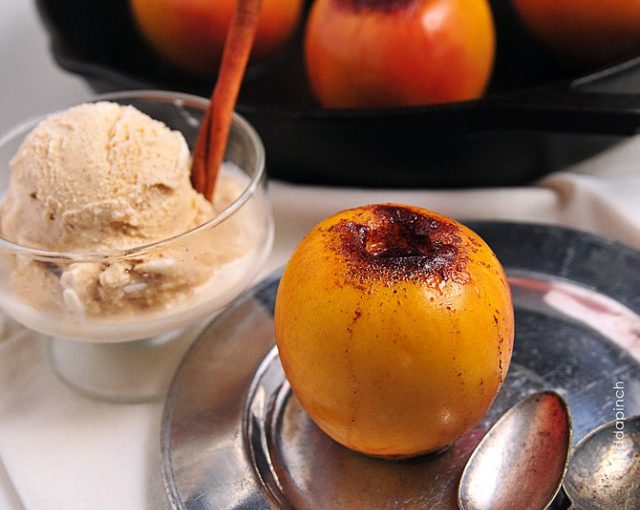 Skillet Baked Apples: By Sweet Revelations
Guys, fall is officially here. I'm not referring to the calendars official fall date, but the signs that let me know the season is upon us. First of all, a true sign is that I've pulled my jeans out.
But in the daytime, I'm sweating in the sun with my Burks on and as soon as dinner hits, I'm searching for socks and a hoodie. My body is constantly confused and I don't know how to dress each morning. Temperatures aside, tis also the season of pumpkin and apple everything.
Everything!
And now that the oven is back on, rest assured I'll be inundating you with pumpkin and apple recipes. Because, pumpkins and apples are everywhere and this girl loves fall baking.
Which brings me to the apple issue I'm currently having. It's nothing serious, it's just that in my usual style, I can't seem to go anywhere without coming home with a huge bag of local apples.
Because I don't know if you've read my Best of Summer e-book yet (and if you haven't, um, can we talk?), but in it I talk about my life long dream of living on an apple orchard. So, since I'm in the city, and I live on a postage-stamp sized yard, the mister has put his foot down about an apple tree.
And my revenge is that darn it all, every time I go out from now until December, I'm probably going to come home with a 10 pound bag of apples.
That'll show him.
I don't know where my obsession with apple trees and orchards started. Since I was a little girl, I've had this vision of myself living on a huge piece of land with rows and rows of fruit trees, literally sagging from the abundance of fruit on them.
And it would always be sunny. And I would sit under an apple tree, eating the fruits of my labour during warm fall afternoons. And I might sell apples on a wagon in my front yard.
It's ridiculously strange, but it's how my mind works. And since the mister won't allow even one tiny tree on our yard (or a chicken, but that's another story), I'm going to keep coming home with apples.
So, with all of the apples, come some great apple recipes right? I've been loving sliced fresh apples on my salads, on my yogurt and on my morning oatmeal and of course in dessert.
I'm all for apple crisps and pies and warm homemade apple sauce on toast (if you've never had this, you MUST). And when I want a quick dessert, with all of the comforting flavours and smells of fall, I'll throw some
Skillet Baked Apples
in the oven. These take minutes to prepare, and have all the decadence of a warm apple crisp without all the work. I like to add some extra butter and filling in the bottom of the skillet, because it makes the most amazing buttery, carmelized oat mixture.
Just before serving we like to top it off with our most recent grocery store discovery of premium salted caramel ice cream. Dear me. The sweet, warm, oat-y, nutty apple with the melt-y and creamy salted caramel ice cream on top is seriously to die for. And since I have enough apples to feed this entire city, I'll be making these all fall and winter long.
I guess I can thank the mister for that.
Skillet Baked Apples Making:
5 large apples
1/2 cup large flake oats
1/2 cup brown sugar
1/4 cup chopped walnuts
1/4 cup pepitas (optional)
2 tbsp flour
1 tsp cinnamon
1/4 tsp cardamom
1/4 tsp nutmeg
1/4 cup + 2 tbsp cold unsalted butter, cubed and divided
ice cream for serving
Preheat oven to 375°
Using a paring knife core each apple, being sure not to core all the way through the bottom. I like to score the skin around the top of the apple, so it doesn't burst when baking. Place the apples in the skillet.


In a small bowl combine the next 8 ingredients and stir with a fork. Add 1/4 cup of the cubed butter and using your fingers or a fork, work it into the oat mixture until it becomes crumbly.

Stuff as much oat mixture as you can into the apples. Put the remaining oat mixture around the apples in the bottom of the skillet and scatter the remaining 2 tbsp of cubed butter on it.


Bake the apples for 40 minutes or until tender when pricked with a fork.
Serve warm with a dollop of ice cream.
Watch the video below now!