For the better cooking or better consuming what type of paper you have to use? Do you know that perfectly? Or do you know that butcher paper or parchment paper use?
If you don't then I think you should go through the article. I have prepared this article regarding this thing on the difference between butcher paper and parchment paper. Let's know about them.
Butcher Paper: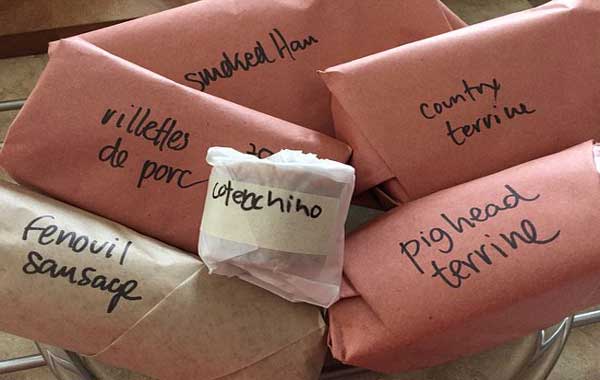 A heavy duty paper contains low lignin and mainly used for wrapping the meat. They are also available in various colors. You can find them at various roll size.
The caustic soda mixture with sulfide makes the pulp stronger by breaking the relation with lignin gently. Through this process, this mixture helps to free the bonding of lignin and cellulose fibers.
Pros:
High density
Strength is also high
Various types of color
Sheet and rolls both are available
Heat resistance
Not such expensive
Prepared for consuming meat
Cons:
Works better with dry food only
Can't resist stickiness
Doesn't proof greasiness
Can be poisonous for food
Parchment Paper:
Cellulose paper which are used in the kitchen for baking as a substitute or instead of greasing. It is also called baking paper. You can find in the kitchen as well as the decoration site in many houses. Many people use this paper as arts and crafts.
Using salphuric acid the parchment paper becomes heat resistance. Most of the paper become dissolved when you put them in acid.
Pros:
It is non-stick
It is heat resistance
Density is high
Special for oven cooking
Re-use is possible
It is also waterproof
It is also grease resistance
Can use for decoration also
Cons:
Tear resistance is low
Low strength
No color variation
Similarities Between Butcher Paper and Parchment Paper:
Between these two types of paper, they carry the most of the similarities. If you first consider the production process then will find that for the first process of making a paper is to make paper pulp. For both of these, you have to use the paper pulp for production.
Parchment paper has high resistance and you can use it up to 420 degrees temperature. The fact is that for butcher paper you can also use up to this temperature.
After this temperature, both of the paper will burn and won't be able to cover your food.
Difference Between Butcher Paper and Parchment Paper:
Now the term comes that actually what are the difference that makes the butcher paper and parchment paper different from each other.
The first difference is that after using pulp you have to add some chemical. The pulp will soak those chemicals and will hold different characteristics.
For butcher paper, the chemicals are sulfide and caustic soda. This mixture helps to create more and stronger paper in density and strength.
But in parchment paper only Sulphuric acid is used. Parchment paper is soaked into the acid for creating extra lining and that prevents the corrosion.
And the most important difference is that the use of the papers. The butcher paper is used for consuming meat whether the parchment paper is used for cooking in the oven.
Butcher paper can't be used for those kinds of foods which are not dry. Because these foods get stuck to the paper. But in the parchment paper, this won't happen because the parchment paper is non-sticky.
For the butcher paper, it bears high tear resistance but parchment paper doesn't belong to this characteristic.
Wrapping It Up!
In the conclusion, I must say that both of the paper bear such benefits that you say partially that one of them is the best from other. So it is necessary to understand on which point they work better.
Obviously, if you want to do the cooking in the oven you should choose parchment paper because of its non-stick behavior. But if you want to consume the meat say for 24 hours you should then choose the butcher paper.
So depending on the need you have to choose the right paper for your food.
Our Recent Guide:
1. Range Hood Under Cabinet buying guide.