Are you an expert in your kitchen? Then a grinder must be your everyday cooking companion. Even if you are new in the cooking business, a grinder can save you in many ways. We are talking about coffee grinders and spice grinders.
Of course, you can buy pre-ground coffee and spices from the grocery shops. But grinding them at home sustains the quality, flavor, and freshness better. They also enhance the taste, and the color of your dish and produce a roundness of aroma and vibrancy.
Before you compare between the two, you must know them separately in details. So let's discuss pros and cons of them.
Coffee Grinder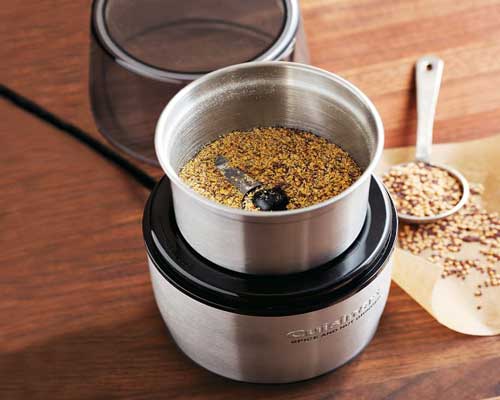 There are mainly two types of coffee grinder. One is the Blade grinder and another is the Burr Grinder. Burr grinder is again of two types- wheel burr grinder and the conical burr grinder.
Depending on the types and brands, your grinder can be messy to quiet and cheap to expensive.
1. Blade Grinders
If you like to think economic, then blade grinder is what you are looking for your kitchen.
As the name indicates, the blade does the main function of crushing the coffee beans. In fact, it slices the coffee beans into very smaller pieces. But the fineness of coffee beans is also a function of time here. The longer you grind, the finer the pieces will be.
Advantages:
As I mentioned earlier, blade grinders are inexpensive. True to say, much cheaper than the burr grinders.
Within its low price range, it does its job quite well.
It's small in size, so perfectly fits in small kitchens.
Disadvantages:
The quality of coffee is not satisfactory if you are very precise. The size of the ground beans is often uneven which makes the drink less consistent.
Besides, it generates heat while the blades are revolving. This also affects the taste. But you can still use this if you are ready to compromise the taste.
Blade grinders are comparatively noisier than the burr grinders.
2. Burr Grinders
Their function is more precise. Instead of the blade, burr grinders have wheels. They crush the coffee beans with wheels against a static surface. The fineness of the beans depends on the burr position.
Wheel burr grinders have flat wheels whereas conical burr grinders have conical wheels.
Advantages:
Burr grinders are superior to the blade grinders in almost every aspect.
They give you the choice of dictating the size of the beans more consistently than the blade grinder. Moreover, you can change the settings here. Thus you can set the appropriate fineness or coarseness of beans.
The heat generation problem is diminished as they work slowly.
They work slow but effective.
Again, they are not as loud as the blade grinder.
Also, they create less mess.Oilier coffee can also be ground without the tension of clogging up your machine.
Disadvantages:
They are expensive.
Wheel burr grinder can sometimes be loud as the wheel rotates extremely quickly.Wheel burr grinders are messier than conical grinders which are again more expensive.
Spice grinder
When you are thinking of Indian cuisine, spice is the thing you must love. Nothing could liven up an Indian or Chinese dish as much as the 'garam masala' or 'xinjiang' can do alone.
Who doesn't wish for the original aroma and flavor of spices in their dishes? And the best way to do that is to bring them whole from the grocery shops. Then set them loose under a spice grinder. Mortar and pestle can only fill the moment's demand, like some spoonful of spices. But if you are in a daily cooking business, a large spice grinder is what you need.
There are mainly two types of the spice grinder.
1. Manual
Manual grinders use gears to crush the spices. Gears are either of ceramic or metal. They consist of a knob. By turning this, you can adjust the size of the grind.
Advantage:
These are easily portable as they don't have an electric outlet to operate.
They are also comparatively cheap.
Disadvantages:
They are both labor and time-consuming.
They can be the reason of your pain in muscles. Especially if you already have carpal tunnel, arthritis or other hand conditions.
2. Electric grinder
Electric grinders cut almost all of the shortcomings of manual grinders. They use blades to cut the spices in pieces.
Advantages:
They are quick and less laborious.
They Can cut a variety of spices. Most of them can chop as well as grind spices and even coffee beans and other grains.
Disadvantages:
As it's electrically operated, so you can't carry it everywhere. Neither it can be operated where there's no electricity or during a blackout. Motors heat up after a few seconds. Therefore, you cannot use it at a stretch for a long time.
Many models get clogged easily and also difficult to clean. They are noisy. Again, People who are environment conscious may have problems to justify it.
3. Herb grinder
There is a third type of spice grinder which can be called as herb grinder. They are much larger than the regular spice grinders. They are mainly used for grinding Herbs including oregano, rosemary, basil, thyme etc.
Larger seeds, tobacco, and teas can also be ground with this. But it's not required for a normal kitchen, as far as I understand.
Difference Between Spice and Coffee Grinder
Electrically operated spice grinder can be used in grinding coffees too. The difference lies in the diameter of the canals of the grinder. The diameter of the canal for grinding black paper is much wider than that of the coffee beans. Therefore, you cannot grind coffee beans in a black paper grinder as the beans won't fit in that canal.
Spice grinders, in fact, don't grind the stuff. They simply chop the spices but unevenly which is ok for using them in any recipe.
On the other hand, the quality of coffee largely depends on how finely and uniformly it's ground. Unevenly ground coffee will create unpleasant texture and consistency. You may not like the taste.
Coffee grinders cut them uniformly into small pieces. They work more precisely than spice grinders. That's why coffee grinders are comparatively expensive.
However, whether it's possible to use the same grinder for both of them or not, it's wise not to do that. You don't want to ruin the feel of a cup of coffee by manipulating its aroma with other spices or herbs, right?
But if the taste doesn't bother you, you don't have to spend money for a separate coffee grinder. Again, if the intrusion of spice aroma is also not a problem, you can use the same grinder both for coffee and spices.
Finally,
Functionally there's not much difference between a spice and a coffee grinder. But the accuracy and quality may differ. Again, different brands come with different features that may provide you additional facilities. Choose one that best suits your purpose and budget as well.