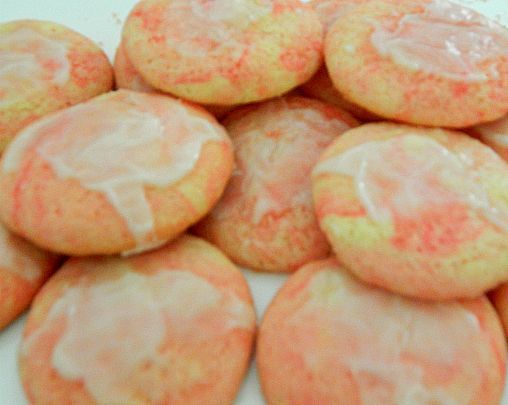 Sweeties Recipe At Home
This amazing and addictive cookie, called a Sweetie, is famous in my town of Lake Jackson, Texas.
I'm not exactly sure how it originated here, and I'm not sure if it is a popular cookie in other areas because I personally had never heard of them before living in Lake Jackson.
But let me tell you, if you have never had one, you are in for a treat! Sweeties are deliciously soft with an almond flavor. They are guaranteed to disappear quickly!
Cookie dough ingredients:
1 c. margarine
2 c. sugar
3 eggs
2 tsp. almond extract
4 c. flour
1 tbsp. baking powder
1/4 tsp. cream of tartar
1/2 tsp. salt
red food coloring
Icing or glaze ingredients:
1 c. powdered sugar
1/2 tsp. almond extract
2 tsp. plus 1 tbsp. evaporated milk
Cream the margarine and sugar with a mixer.

Add eggs one at a time, mixing after each addition.

Add almond extract, flour, baking powder, cream of tartar, and salt. Mix well.

Add a few drops of red food color to the dough, and then swirl it through the dough with a spatula, but do not blend completely.

Chill the dough thoroughly. Once chilled, preheat oven to 350 degrees. Roll the dough into balls and place on a greased cookie sheet.

Flatten the balls slightly.

Bake cookies in a 350 degree preheated oven for exactly 10 minutes. While the cookies are baking, mix all of your ingredients for the glaze.

After 10 minutes when you remove the cookies from the oven, you might think they are not done, but they are! They will become firm when cooled, but they will be perfectly soft!
While the cookies are still warm, spoon a little glaze on top, then spread with a knife.

These yummy cookies are sure to become one of your favorites!