Struggling with your T-shirt designs?
Struggling with the interior decoration of your newfound home?
Editors' Picks for Top Vinyl Cutting Machines for Tshirts
Obviously, you need better designs with better materials. Here's a tip: Get a vinyl cutter and start experimenting with designing with vinyl.
Assuming the name didn't give it away, these tools cut vinyl (duh!) into various shapes, sizes, numbers, and letters. With just the right amount of pressure and cutting power of the blade, these shapes and sizes can turn into intriguing designs.
People can do wonders with the right tool at hand. The perfect vinyl cutting machine can lead you to success in your small business endeavors and T-shirt campaigns. Keyword: Perfect.
Perfect machines don't drop from the sky, you have to scout for them, learn to use them properly, and take proper care to ensure they keep running long and be strong.
These are things I'll discuss in my piece today. You'll learn to choose better products, use them, and maintain them in the right way.
Okay, I'm done with the intro. Let's move on.
Top 10 Best Vinyl Cutting Machine Reviews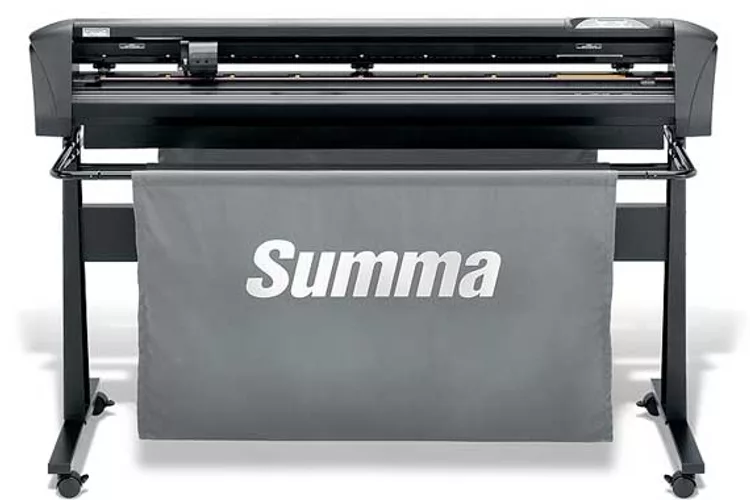 There's no point in scratching your head for vinyl cutters. They aren't that hard to find around here. You just need to look at the right places. "The Right Place" just happens to be this list of mine.
I don't mean to be arrogant but my vinyl cutting machine reviews will certainly help you pick the ideal one.
1. Cricut Explore Air 2 Machine - Link
While there are numerous vinyl cutter machines out there, Cricut is my favorite. This is because you can do so much more than cut vinyl stickers with this piece of wonder.
You have the option to buy a starter kit that'll get you through vinyl cutting. Or, you can avail toolkit and pre-made sticker designs.
This wonder machine features German blade cartridge. It helps the user to make clean cuts without any problems or hiccups.
The machine itself is no muck either. Cricut Explore Air 2 cuts more than 100 types of materials. I tried my hands on faux leather, Specialty Paper, Poster Boards, Adhesive Foils, Iron-on vinyl, and more. Experiment with basic or special colors as much as you like.
This machine is great for cutting vinyl to specific sizes. The cuts are precise each time and every time. The secret to such precise cut is a smart dial system. You can set the depth and pressure it'll use to make the cut. The result is immaculate.
Don't worry. This machine is not a hefty piece of furniture. It looks like a printer from the outset. Keep it on your table if you wish. It takes up minimal space. People can use an android and IOS app or paired with this "Wonder" tool if they don't feel like wiring it up.
Of course, you can pair it with your PC. You don't need any software.
Feel like cutting pieces of vinyl and monitoring the process from the other room? Now you can! Just enable the "Bluetooth" function and control Cricut Explore Air 2 from Afar.
Now, if you don't feel like designing anything, Cricut has your back. Say hello to Cricut Library that features thousands of pre-made designs.
Highlighted Features:

2. Cricut Explore Air Wireless Cutting Machine - Link
No, you are not having a De-Ja-Vu Cricut Explore Air is the previous model before Air 2 came into existence. So, why am I pointing my finger at this one?
Well, it is the older brother of Explore Air 2. Naturally, this one will cut the majority of the materials (over 60) Explore Air 2 cuts like cardstock, Iron-on Vinyl, poster boards etc. It even cuts cloths and fabrics for your DIY projects at home.
This little tool is anything but a relic. It can cut and write or cut and score at any given time. That's right! This vinyl cutter comes with dual cartridges!
You don't have to worry about configuring this little beast. As it cuts through numerous materials, there's no set setting for any of them. Do yourselves a favor and turn on the smart set dial.
This would help this wireless vinyl cutter to automatically adapt to the material.
If you still need reasons as to why I am recommending this predecessor, it has a "Soon to be Patented" state-of-the-art cutting technology. It's what the makers call "Cut Smart."
Long story short, this thing can carve out different shapes with different sizes. No matter how big or how small, it cuts with precision.
I'm not finished yet! After carving out shapes of different sizes, the Explore Air Wireless Machine can go as far as writing a personalized message. If you still need hints, this one would make the best vinyl cutting machine for T-shirts very easily.
Did you notice me calling this a wireless machine? You can use Cricut Explore Air through Bluetooth with your PC, IOS, iPhone, and Android Smartphones.
If you are not feeling like carving new designs out of materials, just upload your own pre-made designs. This machine can read through image formats like.jpg,.jpeg,.svf,.bmp and more.
Highlighted Features:

3. Silhouette Cameo Electronic Cutting Machine Vinyl Starter Kit Bundle - Link
All you need with Silhouette Cameo is a USB cable and a PC or smartphone to connect with. It's just like a home printing machine.
Except the fact that it's not. Instead, it cuts vinyl, paper, fabric, cardboard, and other materials into various designs. The bundle gives you an additional set of accessories to make the job easier.
This little thing (trust me, the size of this thing is small) is pretty powerful despite the size. The blade is sharp, very sharp. I could cut designs of up to 10 inches in length and 12 inches in width. The cutting mat allows you a bit of room with a size of 12X12.
Silhouette Cameo is easy on your hands and brains as well. All you need to do is to design your own artwork, turn the machine on, and start cutting.
If you are not feeling like designing anything, it's alright! This electric vinyl cutter comes with 51 designs for you to pick from.
I don't want to sound flashy but this package also includes one-month membership of Silhouette website. It features a number of pre-made designs that you can download and use.
Have a design already printed? Say hello to PixScan. This machine will cut the design into shape for you.
Don't feel like cutting a design? Make one! Replace the blade with a pen. It will help you sketch one for your next project. You can do everything at a quick pace. Silhouette Cameo features a beginner-friendly manual among other things.
Highlighted Features:

4. Silhouette Cameo 3 Bluetooth Starter Bundle - Link
Keeping up with the predecessor and successor game, let me give you Silhouette Cameo 3! This is essentially an upgrade from the previous one on my list of these machines.
While I'm at it, I should tell you that I'm reviewing the Bluetooth Starter Bundle here.
I breathed a sigh of relief when I found out that I didn't need any internet connection to run this thing. I just put in the paper, fabric, vinyl, leather etc., plugged it into my PC and hit start. That's it! It was that easy. You want to go cordless? With Bluetooth facility at play, you can!
Come on, get innovative! With Bluetooth connectivity, one can use android and IOS based Smartphones too!
The software, as usual, is compatible with a number of windows and Mac operating systems. A touchscreen makes operating this mini beast a breeze.
The "Cutting" aspect of this machine is great with "Autoblade." Why the name?
Well, the blade adjusts automatically according to the design. On a 12X12 cutting mat, you can do wonders! You can even adjust the ratchet with a tool! Don't get me started on how efficient the vinyl trimmer is.
The cost of this bundle helped me to fuel three months of my business without purchasing extra equipment. You'll love the 12X12 651 vinyl sheets. These are bigger and better than what other Silhouette bundles will offer.
I'm not done by a long shot. This little machine gives you access to 100 pre-made design. You can find more on Silhouette's official website. Silhouette helps you in learning the ropes of vinyl cutting with the exclusive kit that they designed.
For the designers (not the cutters), this bundle features as many as 24 pens that have more ink reserves than previous models. Cool? Absolutely! In fact, it is the best vinyl cutter for small business.
Highlighted Features:

5. Silhouette Portrait 2 - Link
What would you say if I recommended you a classic at this point of the list? Silhouette Portrait 2 is one machine that makes everything about vinyl cutting easy without costing you an extra dime. And, it has stood the test of time after all these years.
Many would argue that this is "Pretty Basic" when it comes to vinyl cutters. Yes, it is. Yet, the facilities it offers never get old! You get the AutoBlade that adjusts to your design and material and cuts accordingly.
Also, Silhouette Studio makes it possible for businessmen to run it from a Mac or a Windows PC. Yes, it is compatible with both the Operating Systems. You can connect your PC through a USB cable.
If you don't feel like using the cable, the Bluetooth adapter gives you a chance to do things wireless.
I admit, the cutting mat is a bit small at only 8 inches in length. Yet, it is perfect to get you started within a budget.
Did I mention you'll get as many as 50 pre-made designs? These are all ready to use right from the beginning. If you are still lazy about designing, Silhouette Portrait 2 offers an impressive "One Month" subscription to the store. Silhouette won't charge money for that.
Frankly, this is the best vinyl cutter for beginner if there ever is one!
Highlighted Features:

6. Cricut Expression Electronic Cutting Machine - Link
Often, vinyl cutting machine reviews promise you so much and yet, there's so little that a tool actually offers. However, this is not the case with Cricut Expression Electric Cutting Machine.
With this baby, you get to have limitless designing combinations thanks to Cricut's library.
As you know by now, one can design on a number of materials using Cricut's Expression series. Some of my personal choices include cardstocks, vellum, vinyl (of course), chipboard, and various fabrics.
You can cut designs as small as ¼" and as large as 23.5 inches in length. Don't worry, the expression series features a 12" and a 24" cutting mat. But, there's a catch. You'll have to buy them separately.
The fact that this machine can be used as a standalone cutting device, makes the deal sweeter for me. That's right. You don't need a computer for designing.
One just needs to plug it in, select the ideal design from hundreds of layouts, and select "Cut." It's that easy.
Of course, if you want, you can use a computer too! But it's optional. Bringing the computer into the mix allows users to upload their designs or create new ones.
Cricut further makes things interesting by providing a software for the job. Say hello to Cricut Craft Room! Now you can take any of the layouts that you get with the machine (Yes, the vinyl cutter comes with plenty of them) and let your creativity run wild.
Cricut provides an interactive LCD screen and well laid out control panel to do the job. You'll have as many as six modes and four programs while designing and cutting. Do portraits or Landscapes. Your choice.
I enjoyed working with "Autofill" feature when testing this one for the review. This feature lets you cut similar designs with the same dimensions. This little feature is ideal for people looking to start their own business endeavors soon.
So, what makes this machine such a good package? Well, you have two cartridges which will do the brunt of the job. Then you have 16 3D layouts and 100 layered images to play with.
I thought this would cost me too much. Yet, surprisingly, it was within my budget.

7. Sizzix Sidekick Starter Kit - Link
Beginners can take heart from the fact that there are other products for the designing craft than Silhouette Portrait 2. Sizzix Sidekick is just the right product within budget and with friendly features. This little machine will cost you below 100 dollars.
Let me clarify one thing from the get-go, you'll not have a "Super High Quality" vinyl cutter in your hands. One thing you will have, however, is the portability and convenience to take it anywhere you like.
Also, The machine sits at a dimension of 7 ¾ x 4 ¾ x 3 ½ inches. As you see, it is quite compact and sits comfortably at a corner of your working table.
Before you scream, "What's in the box," you get as many as six framelits dies, two of the thinlits dies, two of the textured impressions (small size) embossing folders, and as many as seven stamps.
These stamps will help you begin your journey as an innovative designer right away.
Even with the small size of this machine, you can count on it to effectively apply water thin dye and decorative dye on objects.
Sizzix comes with embossing pads and aqua cutting pads as well. Combine these two with embossing folders and you can etch the thin water dye up to 2 ½ inches wide.
The decorative Strip Dye works on up to 12-inch wide papers. Yet, thin papers aren't the only thing Sizzix is best for.
This vinyl cutter can decorate a single sheet of paper, leather, fabric, vellum, and even cardstock papers. Design cards for weddings, scrapbooks, greeting cards, and more.
Doing all that can cause some movement on your work table. Not to worry! This machine can hold itself together and in one place thanks to the vacuum seals at its legs.
Highlighted Features:

8.Brother CM350 ScanNCut 2 Home & Hobby Cutting Machine - Link
As we move further down on our list of best vinyl cutters, Brother CM350 ScanNCut is the 8th candidate on this list. Don't go by the numbers!
It is a "Full On" business machine! You've got features like a "Touchscreen" control panel and a built in scanner among other things. Let's count them down!
Let's begin with the most intricate thing, the blade. It's made of German Carbide. Combine the material with Japanese design and you've got yourselves a blade that cuts swiftly. It is durable too. Constantly being under heavy pressure doesn't dull it one bit.
The blade makes for precise cuts when it comes to carving designs out of myriad of materials. You get to play with a 12-inchX24-inch cutting mat. This allows you to design for special occasions, kids' parties, and professional apparel business.
So, how'll someone operate ScanNCut 2? Well, you have a medium-sized (4.85 inches) touchscreen monitor. It is 30% larger than its predecessor. Using this monitor, one can scan the design, weld one to perfection, resize your creation to fit the canvas or simply rotate it.
Don't feel like spending hours on a design? That's fine! Don't. You can choose from 651 readymade designs. Choose one that best suits your needs. Or scan an image and select "Cut" to convert it into an uncommon, never-before-seen design.
You can pair this awesome machine with a computer, a tablet, a Smartphone or an iPhone. There're Bluetooth and Wi-Fi connectivity features which will make your life easier than before.
Okay, I get it. But, why WiFi?
It's because Brother CM350 ScanNCut 2 comes with a free software named ScanCanvas which helps you to design your ideas. You can transfer files from ScanCanvas this cutting tool and do the other way around.
Highlighted Features:

9. USCutter 28-inch Vinyl Cutter Plotter - Link
The penultimate product on my list is what I call a "Mid-range" vinyl cutting tool. This one here gives you a stand to stabilize the working surface. Besides the fancy cover it comes with, it has a lot of benefits to talk about.
Firstly, you have "Sure Cuts A Lot Pro." It's a weird name for a software but it works. It designs with a lot of materials including our material of interest. But don't limit yourselves to this software only! You can even work with Adobe Illustrator or Corel Draw if you so choose.
This little thing comes with dual carriage system. Meaning, it performs two distinct functions. USCutter has a sharp blade. It can make precise cuts. But the perks don't stop there. You also have designer pens that sketch a good design for you.
You get as many as three blades with this package. Should you need more, you can change accordingly. It comes with Roland blade holder. This allows you to mix and match between multiple blade types.
One thing I noticed s the pinch-style rollers that are on this machine. I found two rollers working in tandem. Pinch rollers do a great job at adapting to the environment. As I said earlier, you can put in materials other than vinyl to craft interesting design patterns.
Remember I said, you can work with Illustrator and Corel Draw with this around? I wasn't kidding.
However, you need to hook this up to a computer. One can use one of three available methods for that. One, you can go for Serial Port connectivity (outdated, I know).
There's also a way to connect via USB cable. If you don't like it, go for a parallel connection. Assembling this thing can be a tough ask. I'd advise you to look things up in the manual.
Highlighted Features:

10. Brother ScanNCut CM100DM Home and Hobby Cutting Machine - Link
Oh, my! We are at #10 on my list of Best Vinyl Cutting Machine Choices and it's Brother ScanNCut CM10DM next. This is one machine you can use for crafting various designs at home and as part of your DIY projects.
With 300 DPI scanning power, this little beast scans your family photos and kids' drawings.
Brother ScanNCut CM100DM is one of the fastest machines when it comes to setting everything up. It is one of the easiest as well. You can cut a lot of materials with this vinyl cutter.
However, if I had to pick, I'd say that fabric is the easiest to work with using this machine.
You do understand what this means, don't you? People no longer need a PC or a phone to design projects. Instead, a simple scan of a photo will do. Command it and the machine will start cutting.
But makers didn't leave PC or Smartphone users high and dry. They can connect those devices with CM100DM ScanNCut with a USB cable. But the users have to purchase this thing separately. This model comes with a memory that holds 600+ designs for you to experiment with.
I know, I won't run out of ideas anytime soon!
So, how do we bring these ideas to life? The LCD screen of this wonder cutter allows us to do that. You can interact with the controls. I could rotate, weld, do size manipulations, and cut from this screen. Don't worry, with 11.7 inches of area for scanning, you can go for larger than usual projects as well.
Like the previous ScanNCut model, this one features ScanCanvas too. For the poor souls that don't know, this is a cloud-based software that converts your designs from.SVG to.FCM to print.
Highlighted Features:
How Did I Pick These Vinyl Cutters?
Ah, the million dollar question! In this section, you'll be able to retrace my steps and get to know the factors that influenced my choices. It will help you in doing your own research (should you choose to do so) too. Let's get to it then!
I Prioritize My Purpose of Buying the Machine
Let me be honest with you, blindly buying any product is a recipe for disaster. You must first decide what is the machine for.
Clearly, a machine meant for home users won't hold a candle to a commercial-grade vinyl cutter. Devices for home use have lesser features than commercial ones.
Even with "Commercial" equipment, there are varieties. For example, T-shirt printing demands a different type of cutter than that of interior decorating for events.
For large batches of design, you need something bigger and better. The best vinyl cutter machine for large projects demands more features.
The bigger your business, the more robust and feature-laced machines you'll need. Choose wisely.
Will It Let Me Design?
This is what I thought to myself when getting one for review purposes or just to learn the ropes of this art. I like to nitpick a lot. I am someone who's not that easy to please.
Unless I do my own design, cutting the vinyl is not an option! And what better way to design than with the cutting machine itself? For the most of its outcome, why not considering buying a sewing chair for quilting?
Go for the machines that give you their own software to play with. There are brands that have pre-made designs in place for users to pick and choose. You can pick one, modify, and cut your material according to the finished product.
Obviously, devices that let you design your own stuff will cost a bit more than normal ones. But the price is worth it. Trust me, you wouldn't want to jump back and forth between your PC and the cutter. It takes up your valuable time and lowers production output.
How Easy It Is to Use?
Convenience is what we want from "Any" tool that we use. A vinyl cutting device isn't anything different. Keeping that in mind, I chose electric devices that are easy to operate. Majority of my choices feature a touchscreen monitor that acts as a control panel too!
My choices have a quick loading time. You can swap different accessories with each other at a quick time. Also, users won't have to work for too long to get a design out. Some of the vinyl cutting tools feature scanners. These things scan an image or a drawing. Then they design the inserted material accordingly.
There are models that feature bundle packs with additional accessories. These accessories serve different purposes and lessen your workload.
Is It Flexible Enough?
As I said earlier, jumping back and forth between PC and a vinyl cutter is tiresome. Sometimes, it's outright boring. That's why most of my mid to high range vinyl cutters feature "Cross-Platform" support.
You can pair these models with your PC, Mac, Smartphones, iPhones, and iPads.
How? With USB cables of course. If you don't have one nearby, try the Bluetooth connectivity of these devices.
For example, switch Bluetooth on for your pc and the cutter. You'll be able to control one with the other without wires. Some vinyl cutting tools run without PC or any other devices.
Price Was Important to Me in Arranging This List
I took price into account. It should be no secret to you that higher price brings the best of the goods.
If you don't have the required money at hand, you might need to compromise on some of the features. On my list, there are products that cost less than others. But these products aren't exactly "Feature-Rich."
While best and high price can bring you best goods, you must consider which type of product you need. Yes, you might not need "The Best" right away.
For example, when you are just starting out, you might need a machine suited for beginners and not a "High-Tech" one so to speak. You might not need to pour in that much money after all.
How to Use A Vinyl Cutter Effectively?
Well, now you know which models are up to the mark in terms of quality and how I found them. The next step of the process is to learn to use them properly.
Let's get going!
The first step of the process is to choose a design of your own. You can do the design yourselves using the software in some cases (some vinyl cutters have software loaded on them). If it doesn't have any, use CutStudio. Or simply, choose one from the library of the cutter.
The next step is to select any font that goes well with your design. Mind you, you may or may not choose to go with a font. Once happy, do select the final design and upload it to the software.
At this point, you'd need to specify the outline for your cutting. Are you doing a T-shirt, a greeting card, a design for indoor or outdoor home decoration or scrapbooking? Choose the dimensions that will best represent your design for the task.
This step of the process involves you loading the paper and the blade cartridge. Setting up the ideal pressure and cutting depth is important. Some of the models on my list do it automatically.
(This step is the alternative to the previous one) If you want to PRINT and not CUT, load up the sketch pen and not the cartridge. Again, not all machines will allow users this luxury.
Congratulations, my man (or woman)! You are just one step away from reaping the reward of your patience and hard work. All you need to do at this point is to select the design and press "CUT (or PRINT)." The device will start to work on the selected design.
Lastly, when the design is ready for the taking, use a "Pick Up Tool" or a spatula to collect your design. It will be hot. Don't rush. Instead, give it a moment or two to cool down.
How To Clean This Vinyl Cutting Machine?
Vinyl Cutting Machines don't require much of a maintenance. Surprised? It's true! These little baddies go on for months before they need a "Touch-Up" job.
But we aren't leaving anything to chance, are we? Let's discuss what we need to do "If" and when a maintenance is imminent.
Do remove the blade from the cartridge periodically. You'll do well to wipe the debris off. You can put some amount of pressure on this thing to make sure the stingy dirt gets out. Don't overdo it. Too much pressure might end up breaking it. The blade is brittle to begin with.
Next up is the mat. Now, you can clean the cutting mat in more than one way. Feel free to take it out, wash it with a soap, and dry in the sun. One can also clean the mat with alcohol and bleach. To wipe it all off, use the baby wipes. The third way to do is to applying scotch tape and lint with a roller.
We don't want the insides to get dirty. That's why we'll use vinyl cleaners to rid them off spider web or any debris. However, be careful about not using any liquid for the job. When it comes to dust, use a "Low Power" blower to, you know, blow them away.
[A Small Tip: You can use popular adhesive cleaners like GoGone to clean the blades and cutting mat. Apply these and wait for some time. Then, wipe them clean with a napkin.]
Let's Wrap This Up!
If you are reading this, you guys are patient men and women! Congrats for reaching the end point of my guide on vinyl cutting machines. As you can see, vinyl cutters are everywhere. But not every machine lives up to the mark of the users. Out of the very few which do, finding your personal best is not difficult.
Make certain that you follow some criteria to discern the perfect fit for your endeavors. My golden nuggets on how to choose a good vinyl cutting tool should help you in that case.
Yet, if you are a lazy bum like me, don't go for research. It's too tiresome! Pick one from my esteemed list of devices. I've thrown in some good models that are able to take the heat and deliver the goods when it comes to crunch time.
I can't guarantee if one from the list would be the best vinyl cutting machine or not. But these will certainly not be a waste of money for you. Happy designing!
Buy on eBay, Etsy, Walmart (limited quantity)
Silhouette Wireless Cutting Machine-AutoBlade-Dual Carriage-Studio Software, 12, Cameo - Walmart, Etsy, eBay
Cricut Explore Air 2, Mint - Walmart, Etsy, eBay
Vinyl Cutter USCutter MH 34in Bundle - Sign Making Kit w/Design & Cut Software, Supplies, - Walmart, Etsy, Ebay
Silhouette Portrait 3 Electronic Cutting Tool - Walmart, Etsy, Ebay
Roland GS-24 Vinyl Cutter - Walmart, Etsy, eBay
24inch 500g Cutter Plotter for PU Vinyl - Walmart, Etsy, eBay
Cricut Explore Air 2 Machine Bundle - Walmart, Etsy, eBay
Silhouette SILHOUETTE-CAMEO-3-4T Cameo 3 Wireless Cutting Machine - Walmart, Etsy, Ebay
Cricut Explore Air 2, Matte Black - Walmart, Etsy, Ebay