Many people often confuse a cane knife with a machete. The drastically similar appearance of both the tools might be the reason for this confusion. This cane knife vs machete guide is the right place for you if you are one of them.
Regardless of the similarity of appearance and shapes, there are significant differences between the two that you should consider before you make a final choice. Different people have invented them in different regions of the world for entirely different purposes.
However, it is pertinent to mention that there are some striking similarities between these tools that may cause you to think that there are no differences.
Both the cane knives and best machetes are highly reliable cutting tools that help us from chopping wood to harvesting sugarcane and clearing brushes to making a wooden handle for other items in the house.
In this cane knife vs machete debate, we have defined the terms with their uses to help you decide the best one for you. The listing of each tool's pros and cons will help you identify your needs in the best possible way.
As a result, you will be better positioned to decide what item meets your needs and requirements the most. Our pro trip for deciding a winner in this contest is that you should focus on each item's weaknesses and strengths.
In this way, you will be able to make the perfect choice for your purchase decision.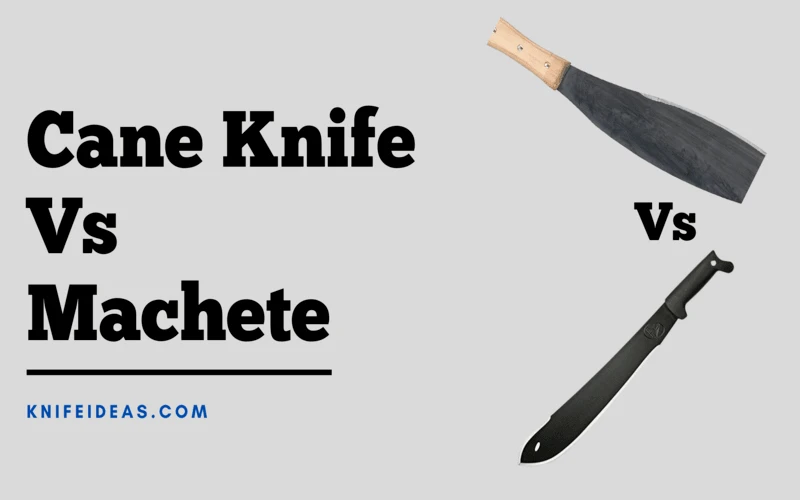 Cane Knife Vs Machete - Comparision
Finest Cane Knife

Cane Knife Machete
Finest Machete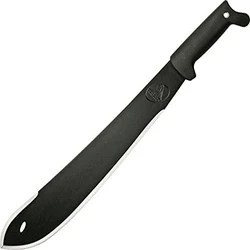 Cane knife Review
You may have heard of cane knives when you last saw the broadcast on sugarcane harvesting. It is a top-rated cutting tool in various cane-growing nations that helps people do a lot of jobs. More specifically, people of Peru, Colombia, Australia, Ecuador, Jamaica, and The Philippines, among many others, find it a handy tool for harvesting sugarcane.
The provision of a large wooden handle in the design of a cane knife is the product's defining feature. Generally, you will notice full tang options in the category of cane knives. A deep blade in the cane knives makes it what they are. A deep blade coupled with a hooky tip enhances the functionality of the device.
The usual length of the blade is approximately 30 cm long. When it comes to thickness, the blade of a cane knife has a thickness of 1 mm, which means it is thinner than a regular machete. The provision of a thin wide blade is advantageous in several ways. More specifically, slicing the cane or any other thing becomes a breeze when using a thinner blade.
Uses of a cane knife
As the name suggests, various tropical and sub-tropical nations use the cane knife for harvesting sugarcane. You can use cane knives for banana plants as well due to their design and blade's length.
It can efficiently handle any cane style vegetation. Additionally, you can use a cane knife as a weapon against any possible threat.
Pros of cane knives
Extra sharpness due to the reduced thickness
● Wide blade
● Full tang option for a highly dependable cut
● Lengthy handle for a smooth grip
● Perfect for harvesting sugarcane
● A highly dependable weapon against any possible threat
● Perfect for slashing and chopping
Cons
It may require frequent sharpening.
● You will have to use a sheath to keep it from hurting.
Machete Review
A machete is one of the most widely used chopping tools in the world. Machetes are used everywhere. It is their widespread usage that almost every one of us has seen them at least once in a lifetime. Machete's use as a cutting tool started from various Central American nations, which used this tool in various ways.
The reason why this particular cutting tool is so famous is its availability in a variety of shapes and sizes. You will find a swooped belly below the blade's tip as the blade gets more prominent towards the tip.
The presence of a saw-like blade in the regular Machete is the defining feature of this tool, which makes cutting and chopping a breeze!
Machetes have some significant cultural importance in many regions of the world. For instance, the national flag of Angola contains a machete in its design. In Brazilian martial dance, people utilize machetes as a performance weapon to showcase their performance.
Uses of a machete
It performs ax-like jobs when it comes to agriculture and farming. You can also use a regular machete in combats or battles. Its prominently larger blade helps eliminate rainforest undergrowth in many tropical and subtropical countries around the world. You can use it to cut coconuts, clear brushes, cut food for animals, and cut thin vegetation.
Pros of Machete
Lengthy blade
● Multipurpose chopping tool
● Simple design for flawless cutting
● Easy to operate
● Does not require experience to use
● Excellent tool for fishing
● Makes demanding household cuts a breeze!
Cons
It requires more power to execute cutting
● Not suitable for animal dressing
Cane Knife vs Machete Key Comparison
You may consider it a weird fact that many uses of a cane knife and machetes overlap. Even in the case of the cane knife vs machete debate, the appearance of the tools also appears to be similar. That is why we will recommend focusing on each option's weaknesses and strengths to arrive at a better choice.
It is definite that you will not select the same tool for cane harvesting and making wooden handles. In this section of the cane knife vs machete discussion, we will depict the differences based on the overall features and functionality of the tools.
Here are the important differences between a machete and a cane knife;
Shape and design
The shape and design of any tool is the defining feature of any tool. These things decide if the item is going to make a perfect buying decision or not. You will notice a deep blade coupled with a hooky tip that makes cutting through cane sticks a breeze!
The presence of the hook facilitates the users to pick up the cut cane without any difficulty. The overall design and shape of a cane knife revolve around cutting through and picking up sugarcane and many similar plants.
On the contrary, you will find a long-bladed knife on machetes that facilitates multipurpose applications. The saw-like appearance of the tool makes it a sturdy stool for performing various agricultural and farming jobs.
More specifically, it does the job of an ax in various agricultural settings. The overall design of the tool also makes it a preferred choice for a weapon.
Cutting Edge and Blade Style
The second most crucial factor to consider in a cane knife vs machete contest is the blade style and cutting edge. When it comes to blade style, you will see a wide blade with reduced thickness coupled with a hooky tip for enhanced functionality of the device.
On the other hand, the blade makes up the most of a machete. The blade on this tool is lengthy, and the handle is short. The presence of a saw-like design in machetes makes it a perfect tool for landscaping and camping jobs.
Weight and Balance
When it comes to weight and balance, the cane knife is the winner. There are several reasons to justify our decision. More specifically, the length of the blade in machetes is greater than that of cane knives.
Additionally, the blade on a regular cane knife is much thinner than the blade on machetes. As a result, the weight of machetes is more than that of cane knives.
A longer and better handle design on cane knives helps the tool maintain sufficient balance during use. That is why you enjoy considerably more balance on cane knives.
Cutting and Chopping Power
Both the items in our list are famous for cutting and chopping power. The overall design and cutting ability of both devices are incredibly appealing. However, if we were to decide between the two, we would go for cane knives.
The presence of a deep blade coupled with reduced thickness enhances the cutting and chopping power of the cane knives' blade.
Handle and Tang
Both the cane knives and machetes come with full tang options. You may select the one that is affordable to you. The handle of the cane knife is bigger and more efficient than the one found on machetes.
Portability and Ease of Use
Due to the tool's overall design and shape, machetes offer better portability and ease of use compared to cane knives.
Buy them at Etsy, Walmart, eBay (limited quantity)
Tramontina 13" Sugar Cane Machete - Walmart, Etsy, eBay
Condor Tool & Knife, Bolo Machete, 15-1/2in Blade, Polypropylene Handle with Sheath, Black - Walmart, Etsy, Ebay
Conclusion - Can Knife Vs Machete
In this detailed Cane knife Vs Machete guide, we pinpointed the significant differences between the two. To facilitate understanding of your needs in the best possible way, we have described the features and uses of machetes and cane knives.
You will be in a better position to select an appropriate one for you if you analyze in detail the pros and cons of each item in the comparison. In our opinion, you should understand and define your needs and requirements before you decide the winner between the two.