I'm almost embarrassed to be telling you what kind of cupcakes I made. I looked back on my previous posts and realized the last few have all been lemon flavoured.
Must be spring. Must be related to my hopes for some warm sunny weather and spring blossoms. I'm ready for it.
It seems to be taking its sweet time.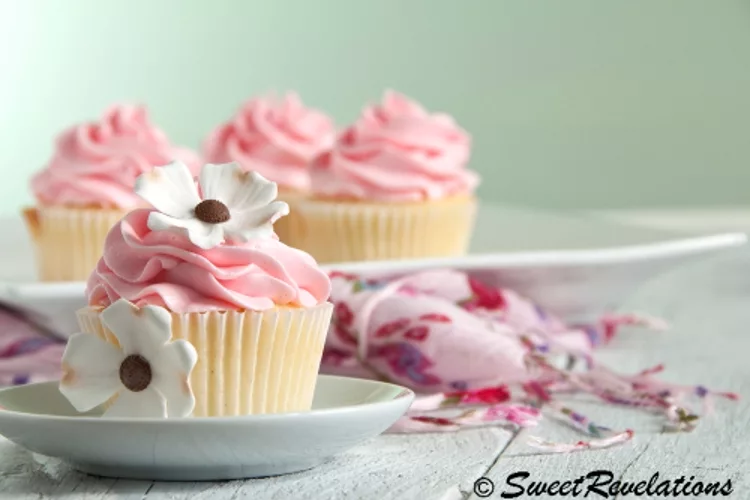 Hot Milk Cake
It really doesn't matter what the flavour of icing is for these cupcakes, the cake is the real star here. This is a recipe for old-fashioned

The texture is similar to a sponge cake, but not quite as dense and much more moist. Just as it sounds, it's the addition of a hot milk mixture right at the end of the recipe that makes these so wonderful.
I added a vanilla bean to the milk as it was heating. It gives it a little extra sweetness.
Can you see my cake looking on in the distance? It has a creamy lemon curd filling and just a swirl of lemon buttercream on top. I had enough batter for 20 cupcakes and a 6 inch cake.
I couldn't resist the sugar dogwood for decoration. This cupcake here, is the one I have received the most emails and comments about. Ever. It's just gorgeous.
These are a smaller version of the dogwood that I purchased on-line. The simple addition of a blossom can take a little cake to a whole new level.
Wouldn't these be gorgeous in a big beautiful bakery box for mom on Mother's Day?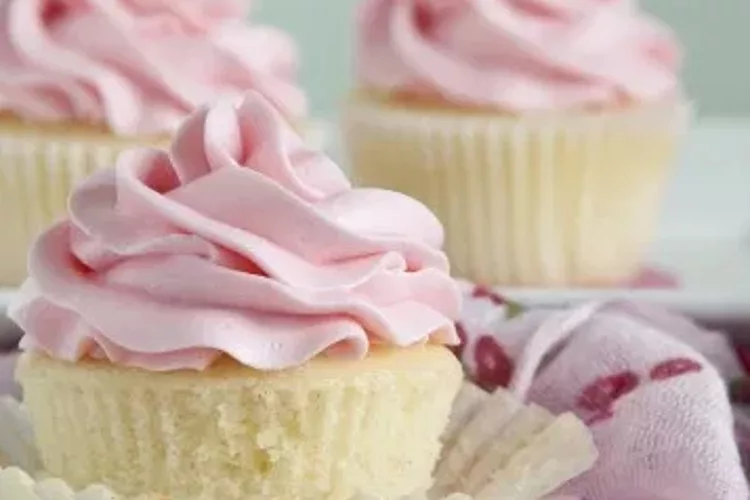 Hot Milk Cupcakes:
Ingredients
*adapted from Taste of Home
4 eggs
2 cups sugar
1 teaspoon vanilla extract
one vanilla bean split and scraped
2-1/4 cups all-purpose flour
2-1/4 teaspoons baking powder
pinch of kosher salt
1-1/4 cups whole milk
10 tablespoons butter, room temperature, cubed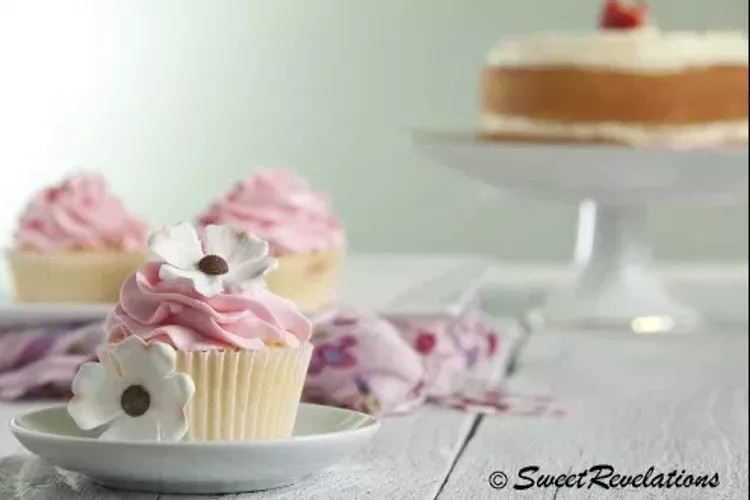 Directions
1. In a large bowl, beat eggs on high-speed for 5 minutes (don't skimp on this step!) until thick and lemon-colored.Gradually add sugar, beating until mixture is light and fluffy and increased in volume. Beat in vanilla. Combine flour, salt and baking powder; gradually add to batter just until combined.
2. In a small saucepan, heat milk, vanilla bean, seeds and butter just until butter is melted and mixture begins to bubble slightly at the side of the pan. Remove vanilla bean. Gradually add milk to batter, a few tablespoons at a time; beat just until combined
3. Pour into greased and floured 6 inch pan and 20 lined muffin cups. You can also use a 9 x 13 pan. Bake at 350 degrees until cake springs back when touched. For the 6 inch pan approx 30 minutes, cupcakes approx 17 minutes and 9 x 13 pan approx 40 minutes.
4. Top with icing, berries and cream or dust lightly with powdered sugar.
Enjoy!