Remember last week when I told you my vanilla extract was celebrating it's birthday?
I used some of that intense vanilla to make a Frozen Mousse dessert that was out of this world! It's a combination of two of my favourite things: a sweet frozen mousse and a rich brownie layer. This is a fancier version of an ice cream sandwich, an indulgent, airy version of an old classic all dressed up for a party. Literally, I've left off the top layer and added some farm fresh berries and shaved dark chocolate.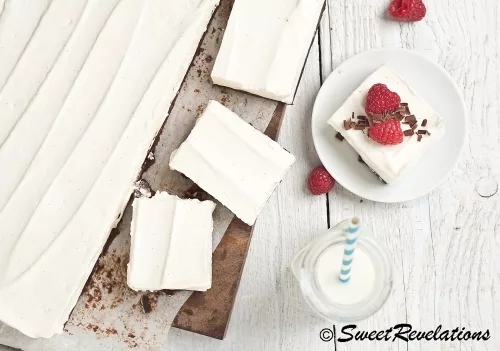 The beauty of this dessert is that it can be made in a large 11 x 15 pan to serve a big crowd. I made it in the morning and left it in the freezer until our company arrived later in the day. It was the perfect surprise to bring out on a hot July day, everyone eager for a cold treat. For the toppings use whatever fruit is in season and some premium chocolate or toasted nuts.
The brownie layer is a recipe taken from here, the Homemade Ice Cream SandwichesI made a few years ago for my twin boys birthday. Now both towering well above me, they are still ice cream, mousse loving guys over a layered birthday cake any day. It's a small but mighty chocolate-y layer that gives each bite rich brownie flavor.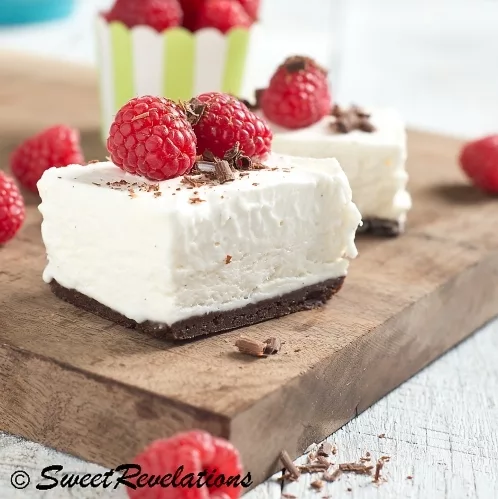 The mousse layer is smooth and light. It's full of vanilla bean seeds, fresh whipped cream and whipped egg whites. All of the whipping creates a mousse that is airy and fluffy. Even when frozen, the mousse is still light and creamy.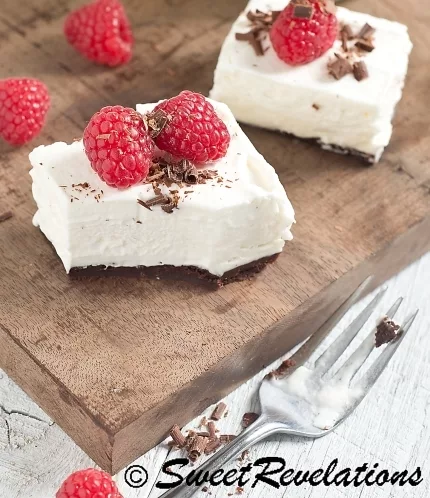 Have you got a favourite cold and sweet frozen summer treat? Tell me what it is!
Happy summer everyone! Enjoy!
Renee
Brownie Bottom Frozen Vanilla Bean Mousse
1/3 cup cold unsalted butter, cubed
84 g unsweetened chocolate, about 3 squares, coarsely chopped
1 cup granulated sugar
1/4 tsp salt
1/4 tsp vanilla
2 eggs
1/4 cup all-purpose flour
6 egg whites
1 1/2 cups sugar
3 cups heavy whipping cream
1 tablespoon vanilla extract
whole vanilla bean, split and seeded
grated premium dark chocolate and fresh raspberries for serving
Brownie Layer:
1. Spray an 11 × 15 in. pan with non-stick spray then line with parchment paper. Place chocolate and butter in a large microwave-safe bowl and microwave on medium until chocolate melted, about 2 min. Stir halfway through.
2. Stir sugar, salt and vanilla into warm chocolate mixture. Whisk in eggs, one at a time, until blended. Stir in flour just until mixed. Scrape into prepared pan. Spread batter over parchment using an offset spatula to create a smooth, even, very thin layer.
3. Bake in centre of oven until brownie appears shiny and is firm but slightly undercooked, no more than 8 min. Remove from oven and cool completely in pan, about 30 min.
Mousse Layer:
*adapted from the Food Network
1. Set a stainless steel mixing bowl set over a pot of simmering water (do not let the water touch the bottom of the bowl, about an inch of water), whisk together the egg whites and sugar. Continue to whisk gently until the sugar is dissolved and the mixture is warm to the touch (there should be no sugar grit left when rubbed between your fingers). Remove from the heat and, with an electric mixer on medium-high speed, beat the mixture with the whip attachment until white and fluffy and completely cool.
2. In a medium bowl, combine the cream, vanilla and vanilla seeds, and whip until soft peaks form. Gently fold the whipped cream into the beaten egg whites until completely mixed in. Spread the mousse over the cooled brownie layer and freeze for at least 3 hours. Cut and serve with grated chocolate and fresh berries.