Do you like to grind your own spices? Are you a passionate south-Asian-cuisine taster? Then you must prefer grinding spices at home instead of buying them from the grocery shop.
And who doesn't know that freshly ground spices not only smells good but also tastes better?
Grinding spices at home have some other advantages too. You don't need to buy seeds or dry spices and ground spices separately. You can buy the seeds only and grind them when necessary or use them as a whole.
How To Use a Spice Grinder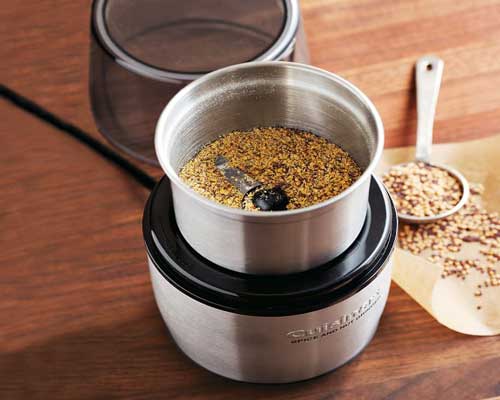 However, there are various types of spice grinders available on the market. Each of them is of innovative styles. Again, there are spice grinders designed especially for a particular type of spice.
For example, a pepper mill wholly dedicated to grinding pepper. So you can buy multiple spice grinders or one multipurpose grinder, whatever you want.
But here we'll not only talk about the use of different grinders but also how to use and maintain them properly. There are differences in using different types of spice grinders. It depends on the features and other optional attachments.
To know the difference, let's discuss them in details.
Mortar and pestle
Mortar and pestle is an old form of spice grinders but still in use though little. Crushing round-shaped spices is more satisfactory than grinding flat items with this.
A Mortar is a round bowl, usually of hard stone like granite, or ceramic, metal or even hardwood. On the other hand, the pestle is a blunt shaped heavy object.
The seed that is to be crushed is placed in the mortar. Then the seeds are pressed with the pestle by rotating it onto the seeds until you achieve the texture you want.
But using it is laborious and not that much effective. What you produce from five minutes of fiddling, can obtain in two seconds by grinding.
Heavy duty grinder
This is equally good for producing both dry grind and wet grind. Fine powder of corn, grains, spices, coconut, herb, dry chili, lemongrass etc. is possible.
Again, you can make a thick and smooth paste of curry, ginger, chutney, even snow from an ice cube. Moreover, it'll require no water or only a little water to make a paste. It's both time and energy saving and thus efficient.
Function:
It consists of a ½-hp motor of 400 watts. This space-saving grinder is made of stainless steel. The jar is detachable and the blades contain a lid of polycarbonate. There's a built-in stirrer at the top for easy mixing while you're grinding.
Efficiency is up to 1 cup fine ground powder or smooth paste at one time.
Multipurpose grinder
This type of grinder has several numbers of applications regarding grinding seeds. The jar is detachable for the purpose of easy cleaning. You can grind-
Seeds
Corns
Garlic And Ginger
Ice
Both Soaked And Unsoaked Rice And Lentils
Oilseeds
Coconut
Nut Butter Etc
Function
A stainless steel jar with a built-in stirrer at the top.
Robust
Space saving
400 watt, ½-hp motor
Other improved grinders
Grinders are also available with more powerful motors like from 550 to 750 watt. And you can interlock the motor for safety purpose. The stainless steel jar is multifunctional and the blades are interchangeable.
The capacity of the jar may be up to 1.2 liters and can grind up to 400 grams of spices and seeds. They can easily grind 2-3 cups of items at a time. The built-in stirrer can easily do heavy duty grinding, both wet and dry, up to a half cup. They can perform-
Dry and wet grinding,
Blending
Whipping
Mincing
Grating
Some come with extended P/L warranty up to 5 years. Some also come with many other unique features. For example, snap-in locking system, a stopper assembly etc.
There may be some Additional attachments. Such as a locking system handle assembly with the jar.
Cleaning spice grinders
As I mentioned earlier, cleaning and maintenance is also a part of using a spice grinder properly. You don't want your grinder to become unworkable before it reaches it guaranteed life.
Do you? That's why cleaning it time to time is important. Start grinding with a clean grinder. Otherwise, the flavors of different spices will jumble together. So cleaning is necessary for-
extending its service life
Preventing cross-contamination of flavors
Controlling rancid and the muddying taste
And having a pronounced color, aroma, and texture of respective spice.
How to Clean Spice Grinders
You can't wash the grinder jar the same way you wash dishes with soap. You can wipe out the grinder painstakingly with cloth damped water.
But this will fail to remove the oil from the nook and corner of the jar and blades as well. So what to do?
Following is an easy and interesting trick to bottle up both the logged spice traces and oils:
Take around 1/3 cup of rice in the grinder and continue grinding for a minute. When pulverized, it creates rice sand along with a thin dusty layer of rice flour.
What rice-sand actually does is dislodging any residual spices and absorbing oils. No fragment of flavor is left now.
Now empty the grinder by dumping out the rise-sand.
Damp a clean towel and then wipe thoroughly inside the grinder. Clear off the remaining rice dust adhering the jar wall.
You should perform this quick cleaning method every week. If not possible, repeat this at least once a month to get a pristine look.
Final Verdict
Using a spice grinder is not something very difficult unless you make it messy. If you can't do proper maintenance things can go funky and end up ruining the taste of your dish.
So cleaning it time to time is no less important than using it properly. When you buy a new grinder, it's recommended to go through the manual first. Especially when you are new in grinding, it's obvious to know the machine first.
Spice up the day with the freshly ground spices, but know how to use it first. Have a happy cooking day!