We would all dearly love a large kitchen in our homes - plenty of counter tops, a breakfast table, airy windows, double stoves, and the whole works.
Unfortunately, kitchens are pretty small in the modern homes, with barely space for the bare essentials. If you are renting or buying a furnished home, there is regrettably not much chance for renovations. But that doesn't mean you have to stay stuck with an ill-organized kitchen you can't do anything in.
Even small kitchens can be quite comfortable to work in if you can plan everything right. All kitchens need plenty of storage and working spaces, and with a little innovative planning, you can fully utilize the small space you are stuck with.
Tips Kitchen Organization Ideas for Small Spaces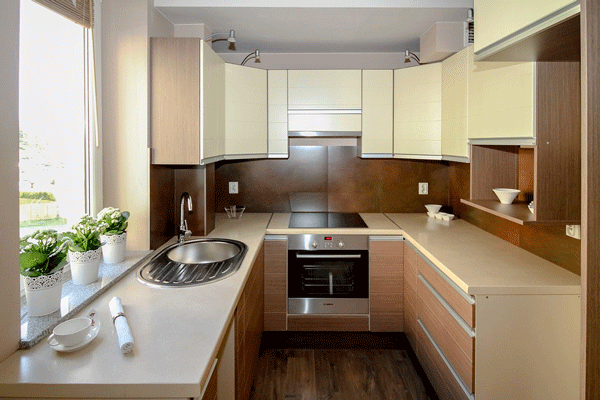 You won't even have to be very handy with tools to do so, but a little creative and willing to experiment.
Here are some easy but quite effective organizational ideas that you can try around your kitchen, to improve both your storage and working facilities.
Most cabinets in modern kitchens are large and barely used. Without proper shelving system, you can't really store a lot of jars or tins in them. Stacking one jar over another is usually more of a hindrance than a convenience. There is always a chance of things falling over or more importantly, not finding what you need in a hurry.
You can utilize your kitchen cabinets simply by adding an additional layer to it. You won't have to bring in a carpenter or add a shelf yourself if it's too much of a hassle.
All you need to do is to buy a few wire shelves that will fit in perfectly inside your cabinets, and you'll instantly have double layers of storage instead of one. This works better for tall and thin cabinets under the kitchen counter top rather than the ones over your head.
Utilize your Kitchen walls
Instead of stacking up your cookware one on top of another, use your kitchen walls to store them. Add intense adhesive hooks around the wall to put up your frying pans and skillets rather than storing them in a drawer or cabinet.
Skillets and frying pans are not very space consuming when hanging on the walls; all you have to remember is that they are not hung in a way that you bang your head on them.
Instead of keeping your cooking spoons, ladles, spatulas, peelers, whisks and even your cutting boards inside drawers or on your countertop, hang them from strong hooks on the insides of your cabinet doors.
Depending on the size and the number of counters, you can hang almost everything on these doors and completely keep your countertop clean. Hanging them all separately instead of stacking them up in a drawer also makes it easier to find something in a hurry, if you can just remember where its rightful place is.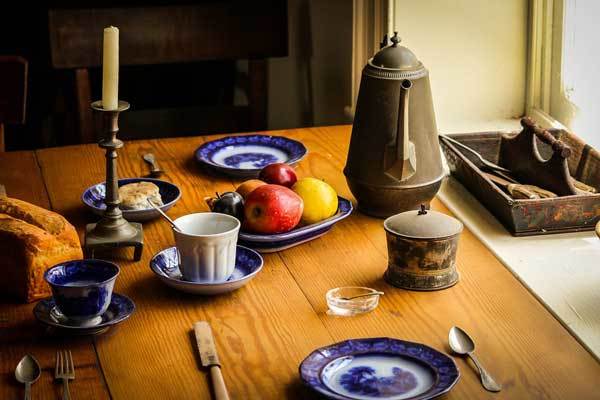 You can always store your whole cookware set in one cabinet instead of several if you buy a set instead of separately. With a set, all the saute pans and stock pots can fit into each other, with lids to share between them.
They also cost less if you buy a large set with at least 6-10 cookware together, than separate ones. Although you are definitely going to need some extra ones for special purposes, the larger pans, if bought in a set, is much easier to store together.
Be Smart with yo u r Knives
Although wooden knife stands look beautiful, they are quite space-consuming on your countertops. One way to completely eliminate the need for a knife stand is to hang them high up on your walls.
For this, you won't need individual hooks, just a big strip of magnet. Glue the magnetic strip anywhere on your kitchen walls, and your knives will automatically stay attached to it. Not just knives, but scissors and whisks, as well. All you have to do is to remember to buy utensils with a metal handle.
However, remember to glue your magnetic strip high enough so that it is out of reach from children. If you decide to do this inside a low counter door, keep the counter locked at all times.
Use the nasty space under the Sink
No one wants to store food or cooking items in the cabinets under the sink, but you shouldn't completely waste the space, either. There are many other things that you can keep here that has nothing to do with food, i.e. cleaning agents, sponges or waste baskets.
Whether your sink is covered with cabinet doors or open, all you need are a few hooks and baskets to store your detergents, extra sponges, reusable grocery bags, and everything else you don't want near your food.
If you are not too enthusiastic about seeing your waste basket in the kitchen, there are some great ways to hide them inside your cabinets. You can simply screw your waste basket to your cabinet door under the sink and hide it away, opening the door only when you need to throw something away.
Instead of a large waste basket, you can get two small ones to attach to each door. This way, you can use one to throw away discarded food, vegetable peelings and similar items, and the other one for recyclable items.
For all the spices and condiments that you only need a small amount of, there's no need to keep them in large containers and overcrowd your cabinets.
If you get small magnetic jars, you can actually keep them anywhere - on your kitchen walls attached to a magnetic strip, hanging on your fridge, or hanging on the insides of your cabinet drawer. You can also keep them hanging to a magnetic strip behind your kitchen door or window.
Don't forget the gap by the fridge
If there's a small gap beside your fridge, it is definitely not space to ignore. You can actually buy a thin organizer on wheels for your sauces, dips and small jars that will stay hidden all the time until you need them.
This is a simple organizer that you can also easily make by yourself if you are a DIY-person, but it is going to make your life much, much easier, especially for storing your groceries.
If you have a habit of doing all your grocery shopping at the beginning of the month, storing them can be a hassle. Use your top cabinets or the top of your cabinets for this, putting everything roughly inside multiple baskets.
If you can label the baskets accordingly, i.e. "Condiments", "Canned Food", "Baking" or "Essentials", they'll be easy to find later, too.
If you own too many large pans and skillets (whether because you cook as a profession or you love to cook for your family) that you almost never use, there's no use laying them about in the kitchen.
If you don't have high cabinets to store them, you can just install a curtain-rail from your kitchen ceiling, way above your head, and hang the rarely-used utensils from it, using strong hooks from the rail.
So, there's absolutely nothing to worry about if you have a small kitchen. With these clever organizational ideas and more, your compact kitchen will have exactly the amount of working and storage space you need, all you need to do is to learn how to properly utilize the space you have.
If you can't have the enormous kitchen of your dreams, you can still have a perfectly functional kitchen that will be quite adequate for all your cooking and baking needs.