Rugs are super cool staff for decorating your living room. Pops of colors add warmth to the room and give it a new dimension.
So what about your kitchen? Don't you want it to look as good as a perfectly decorated home demands? Wait, not just ravishing the kitchen, but rugs do other benefits too.
Large and wide kitchens with open floors are the new hot trend in home construction. It's getting popular as a kitchen is the most trafficked room in every house. So, people do not hesitate to give it some extra space. And filling up the voids with kitchen area rugs is a great idea.
Why Place Rugs In The Kitchen?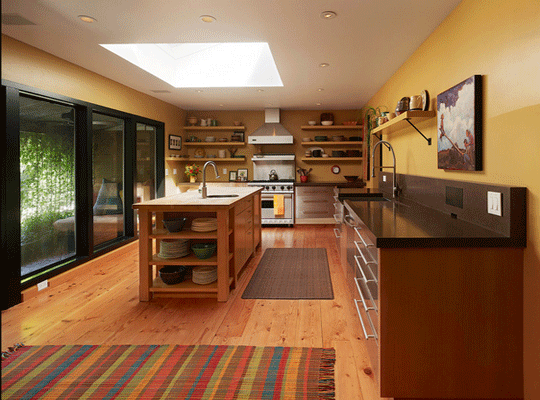 So before jumping on straight to the ideas, here're the benefits kitchen rugs do to you.
Like your living room, rugs add some color to your white and grey kitchen. As bright whites with neutral decor are the newest trend, some vibrant rugs can warm up the look. Red, yellow, blacks are also getting popular.
Kitchen rugs protect your floors from scuffs, scratches, aging, and warping. Not just floors but it also keeps your dishes safe from shattering.
Rugs also provide safety while you're working in the kitchen. Properly padded rugs will reduce the slipping risk. Also, they will reduce pressure on your back and save you from back strains.
Kitchen Area Rug Ideas:
Place A Large Rug Under The Table
This is an excellent idea if yours is an eat-in kitchen. As the open floor plan is the new trend, you can separate a large room into an individual space simply using a rug. Just place a colorful rug under the dining table.
It's necessary that the rug exceeds the edge of the table. So choose one that is large enough so that when you back up the chairs, they are still on the rug. This will also make the room appear larger. On the other hand, if the rug is small in scale, it'll make the room look out of scale too.
Place A Runner Rug Between The Island And The Wall
If your kitchen is the trendy one with a large island, this idea will work for you. Make sure after you lay down the rug, there still remains at least 4 inches of space around the outside of the rug. Place it wisely so that it won't interrupt your work or create any obstruction when you're in a hurry.
Place A Small Rug At The Sink
If the size of your kitchen is not so large, bring a rug that exactly sits at the sink. Generally, a 3x5 size kitchen area rug will fit the sink.
For a small size rug, going for a bold or something more neutral will be wise.
If there's a lot of space to fill in your kitchen, place an extra-large area rug in the middle. An over-dyed bold rug will go well with you neutral kitchen. Shades of blues or greens will add cheerful colors to the room.
Choose Neutral Area Rug For A Dark And Small Kitchen
Apart from placement, the color of the rug also reveals a lot of things.
If your kitchen is already dark, avoid dark color rugs like black. Dark colors make the room seems smaller whereas white and light colors do the opposite. So brighten it up with light color kitchen area rug. It'll also give the small kitchen an expensive look. If you're not confident with bold colors, then stick to one color palette.
Again, Contrast of colors will be recreational. But make sure that you pull the light color but bright shade for the kitchen area rug. Especially, if your kitchen is small, then bright shades will open small places. You can also use lights to make it feel like bigger.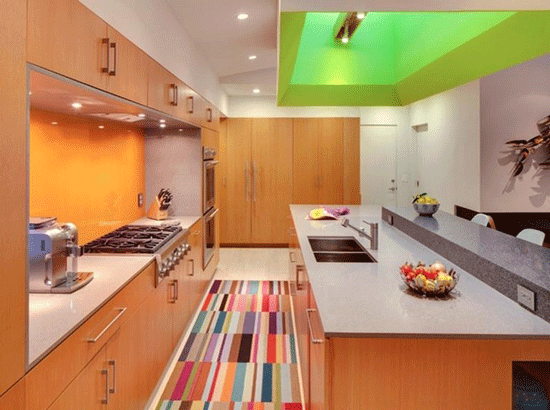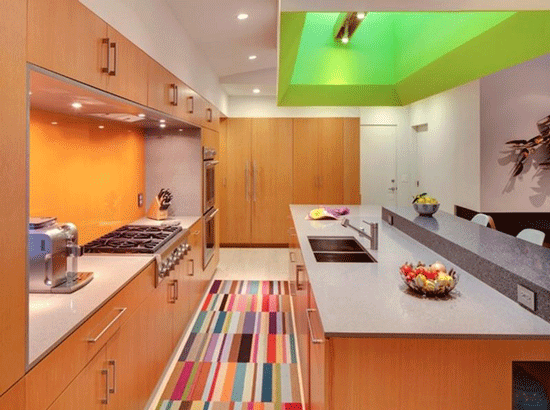 Choose Bold Area Rugs For Bright And Neutral Kitchens
White cabinets with light color backsplash and countertops brighten up the kitchen. So there's no need to brighten it up more with light color rugs. You can go bold! A vibrant kitchen area rug will look stylish in the kitchen.
Choose The Right Material
Along with wool, there are viscose and synthetics available in the market. But wool is the most popular and to me, the best choice for the kitchen. Viscose will give you the silk-like feel as you stand on it but nothing can be a replacement of true silk.
Both synthetics and viscose are less expensive than the wool. However, going for wool would be the best decision.
Use Traditional Oriental Rugs For Your Kitchen
You'll love to see how those deep reds and symmetrical patterns ravish your kitchen! These traditional rugs perfectly suit any décor regardless of the style of the kitchen.
Break Up Colors Between The Floor & The Cabinets
This is the fact Interior designers care about the most. It's very important to break up the sameness between the floor and the cabinet to give it a classy look. Using wool area rugs of different colors and contrasts will separate the feel.
If you need suggestions regarding choosing an area rug, here's the following video I can recommend:
Finally,
A kitchen area rug is a detail that makes the kitchen decor seems finished. A rug can warm up a soft floor or soften up a hard floor like wood or tile. It can brighten up your kitchen and also make your kitchen darker. So choosing the right one is very important. Though color is the least of facts to worry, don't choose a color that won't go with the kitchen wall.
Also, the right placement of rug matters. This is because how much you're going to be benefited from the kitchen rugs depends on where you place it. I hope, the ideas above will be fruitful.