Making a tasty cake is easy. What's really difficult is making the cake good-looking. Here's when a picture can help you out.
If you want to make a beautiful cake, then learning how to print a picture on a cake at home can be your best idea.
You won't have to spend much money or time. And you can do it all yourself with just a few tools and in a few hours only.
Are you ready to learn exactly how this is done? Then head on and find out!
Printing a Picture on a Cake: 2 Easiest Methods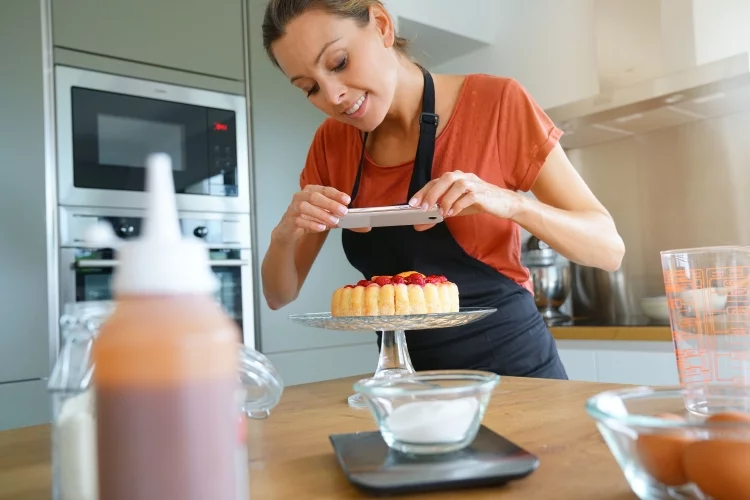 Tracing the Image You Want to Place on the Cake With Icing
The first method consists of tracing the image you want to place on the cake with icing. It seems easy, but it actually requires a little more effort and time than you may expect.
But the advantage of this method is that you can create practically anything. From a cartoon image to a real-life picture or whatever - and it will end up with a unique style.
On top of that, you can create the icing with whatever you want. You can use butter, chocolate, egg whites with sugar, or whatever you prefer. It will end up tasting and looking exactly how you want.
Want to know how it's done? Here's what you should consider:
Tools You Need
Printer with Ink & Paper
Computer with Editing Software
Non-Toxic Crayon
Icing Sheet or Wax Paper
Scissors
Pastry Bag
Pastry Tube
Multi-colored Icing
Next, you'll have different steps to make this possible.
1. Choose the Picture
First and foremost - make sure you have a picture ready. Pick something that's not too hard to trace, but also get something that has value or meaning. Of course, it all depends on the type of cake you're making.
Then, make sure the picture has the perfect size and quality to fit on the cake. That will make it easy to recreate the image when needed.
2. Edit the Picture
For the picture or image to be perfect in this method, you need to eliminate all the colors and shadows. Leave only the borders and small pieces of color around.
If you're tracing a cartoon, then you won't have to do much. The image is ready to be traced.
3. Print the Picture
Now it's the time to print the picture. You can use a standard ink-jet printer. You don't need to use colors on the printing either. Just print it black & white - you will only need the colors in case you want a more realistic cake.
4. Trace the Image
The fourth step into printing a picture on a cake is about tracing the picture. Here, you need to start by placing the icing sheet or wax paper on top of the printed image.
Then, with the non-toxic crayon, you can start tracing it. No need to bring small details about the image. Only trace the borders and the internal parts. This should leave a clear & easy to resemble drawing on the paper or sheet.
Finish by cutting the sheet or wax paper with scissors. The cut should be close to the borders of the image so you can have the ideal shape to start icing over.
5. Prepare the Icing
Here, we recommend using multi-colored icing. You can make the icing however you prefer and add colorants to make it more realistic or close to the original picture as possible. Use butter for a more texture-rich icing. Or make it simple with egg whites and sugar for a simple yet still tasty result.
Then place the icing on the pastry bag or tube. Use the ideal pastry tip for the bag/tube. It should be something thin so you can make the details more easily. Or thick if you want to fill the space within the outlines.
6. Outline the Tracing with Icing
With the tracing ready on the wax paper or icing sheet and the icing waiting to be used, then you're ready to pour some glaze on it.
The whole focus should be on following the trace as correctly as possible. This will leave a beautiful yet tasty icing on the icing sheet or wax paper you used.
Remember to use the ideal tips so you can make the most realistic yet consistent picture on top of the cake.
Once you're done with icing the sheet or paper, then you need to place it on the fridge for at least 2 hours.
7. Finish the Cake
As you may guess, learning how to print on a cake with this method is more about learning how to draw it with icing.
By now, you should have the icing on the sheet or wax paper hard enough to place on top of the cake. This is a little difficult.
First, you need to have the cake already baked. Then, with the frozen design on the sheet/paper, you need to place it in the center - as well as possible, so it looks good on the cake.
Finish by outlining the extra details. Make it exactly how you thought it would look.
Then you're ready to enjoy a cake with a picture on top.
Print Edible Ink on Edible Paper From a Printer
Now, if you want to truly learn how to print edible images for cakes - then you need to do something more costly. But this is also way easier.
You will be printing edible ink on edible paper from a printer. Yes, exactly how it sounds - and it is totally possible.
This process will save you time and effort. But it won't let you prepare the icing as you prefer. Luckily, it is still delicious.
Want to know how it's done? Here's what to consider:
Tools You Need
Printer
Edible Ink Cartridges
Edible Printer Sheets (icing Sheets)
Computer with Editing Software
Scanner (Optional)
Scissors
Next, you'll find the easy-to-follow steps of this method:
1. Prepare the Picture
Start by preparing the picture on the computer. Remember, you'll be printing such an image on paper, so you can choose as much color and/or complexity as you desire.
We usually recommend saving the picture in JPEG from the diting software. And tweak the brightness to lower than expected as the edible inks tend to be less thick.
2. Prepare the Printer
With the image ready to be printed, then you need to prepare the machine. You need to load the edible ink and cartridges, and then place an edible sheet on the loading tray of the printer.
You'll be almost ready to start.
3. ​Print the Picture
Look for the image on the computer that you want to print. Check one final time and make sure it is exactly what you want.
Then, if it looks neat, you can start printing it. Don't overlook the size and orientation - it should have the ideal ones so it can fit on the cake.
Click the "Print" button and wait for the image to come out of the machine.
4. Place the Picture On The Cake
The last step into learning how to print edible images is placing the picture on the cake.
This is probably the easiest step. But you still need to be extra careful.
Just peel the back part of the icing sheet. You can use scissors to smooth out the edges or cut whatever you're not using from the paper.
Then place the image on the cake, making sure it fits perfectly and looks centered. You'll have a printed image on your totally edible cake.
What can I print on a cake?
You can print on almost any surface that is hard and smooth. A good example of something we do very often is pictures or logos for birthday cakes, but we've also done many custom made cakes such as roosters (on top of the cake) and wedding decorations like garlands. The most important thing is to have a good quality photo from a professional printer.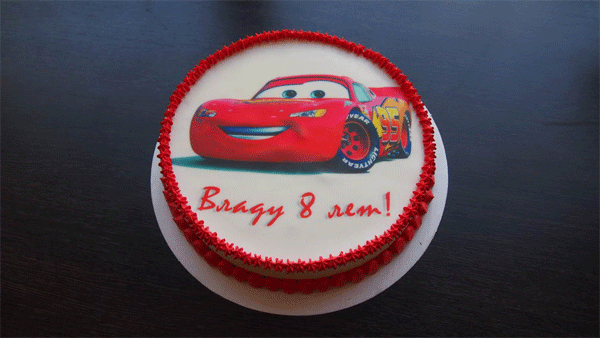 The surface you print on has to be smooth, either matte or shiny icing can be printed on. The thickness of the icing doesn't matter, but there should be no holes or bumps that could disturb the image once printed onto it. If your image goes over a hole, it might get blurred as the icing gets squished.
We haven't had any problems with printing on rolled fondant. You can print on almost anything that's smooth and you find at home, such as fridge magnets, plates, glasses etc. We just don't recommend to print on chocolate or candy as some of these melt very fast when sitting in warm environments.
What kinds of printers can I use?
You want to have a printer that uses high resolution and has the ability to print on large formats so you get good quality images and fine details. A regular home office laser printer will do just fine if you don't need to print full sheets, but we recommend getting one of the professional printers we've listed in the How to Print a Picture section.
How much does it cost?
A printer can be expensive (depending on its capabilities), but you shouldn't need to buy paper because you probably already have what's required at home: ink and photo paper or glossy magazine paper. If you buy an average priced photo printer it might cost you around 20 USD per sheet, each with a good resolution. We recommend getting the best possible resolution for every picture, but if it is too fine, your printer can't print it and the image gets blurred. A good average resolution to aim for is 2400 dpi (dots or pixels per inch), even larger images printed on a smaller surface tend to look a bit blurry. This is a photo printer we recommend, and it costs around 16 USD per sheet:
Which photos can I print?
You can pretty much print any image that's black and white or color as long as you have the right software for it. Some photos might need slight adjustments in order for them to print clearly on the icing, but if you have a good picture it should work just fine.
When printing on surfaces other than thick paper, shiny photos are better because they don't get distorted when applied to irregular surfaces. We recommend getting glossy magazine paper (cheap and available at any office supplies store).
Conclusion
So, did you learn how to print on a cake at home? As you can see, this is mostly a child's play.
You can pick the method 1 if you prefer a real and more flavorful icing. But if you instead want something more personalized and neat - then you can choose method 2 for printing edible images.
Both will be amazing, nonetheless. If you paid attention to the guide, then you're ready to surprise other people with your cake skills.