Tramontina Machete Review - Excellent & versatile Brazilian made blade the 'Tramontina Machete' that is widely accepted for heavy-duty, especially among the rural workers. Tramontina is one of the best & quality manufacturers of professional machetes.
This Tramontina Machete is a flat-backed blade & having no sheath & wooden slabs for handling. Made up of 0.08 inches' thick steel and have 14 inches' blade. The overall weight of the product is just 332 grams. This Latin style blade is a nitty-gritty tool that is extremely useful for harvesting and cleaning of the bushes.
Today in this Tramontina Machete Review, we are going to unveil the facts and figures that truly depict the nature and usage of this fantastic tool. And above all, it will help you in purchasing decisions.
Tramontina Machete Review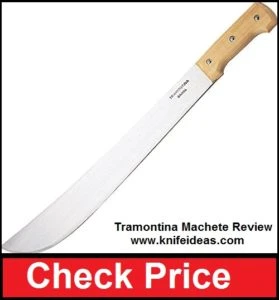 This product is quite different as compared to the other machete blades of the same class. Let's explore the things that make them different from other blades.
Sheath
Tramontina Machete doesn't come with a sheath. Tramontina manufactures different kinds of cutlery tools. Not like others, they don't focus on survival knives and outdoor gear. Their main target is the cookware industry. That could be a reason they think that people don't want to use the blade outdoor, or maybe they can because several rural workers admire Tramontina Machete in agricultural work. No need to be a worry at all because you can buy the sheath separately.
Handle
The handle of Tramontina Machete is straightforward and easy to grab. It is made up of actual wood and highly resistant polymers. To be honest, this could cause a problem in the long run because I am thinking about how a wooden handle will look like after a year of use.
Steel
The steel SAE-1070 is very flexible and tough with high tensile strength. The steel is highly capable of bending along the steep angles without breaking or suffering any kind of deformation. The blade is very thin, and it appreciates that it can easily bend and twist without any deformation. The chemical composition of the steel is given below.
| | | |
| --- | --- | --- |
| Sr. No. | Metal | Composition Rate |
| 1 | Carbon | 0.65% to 0.75% |
| 2 | Manganese | 0.60% to 0.90% |
| 3 | Phosphorus | 0.50% Maximum |
Quality & Durability
The overall quality of the blade is super strong. It is made up of highly flexible and tough steel. But as far as the handle is concerned, it bit stiff. Overall retention of the edge is excellent. It can use to clean the overgrown area having large downed tree branches. It smoothly goes through the soft stuff.
SAE-10170 steel makes it long-lasting for years use. But the overall construction of the machete is too thin. It has its pros & cons. We will discuss the pros & cons of this product later.
Sharpness
Initially, at the time of unboxing the machete, it is not sharp enough. But you can sharp it according to your usage & keep the blades safe and secure for long. It can be sharpened. No matter what you are cutting, it can go through different hard and soft stuff like a breeze. I have tried to cut the different sizes of hickory branches and found there is no deformation or chipping and rolling of the blades. I have tested this fantastic blade with piles of stuff and not needed to re-sharpened the blades again.
Note: The tip of the blade isn't sharpened enough at the factory, and it is due to safety reasons. The tip is such part of the blade that can cause injury to someone while using it; that is the reason it leaves dull. But that is not a problem. You can easily sharpen it with the help of a steel file in just a few minutes.
Handle Ergonomics
Overall, the design of the Tramontina Machete is quite compact. Quite light in weight and well balanced makes it super easy to use for multiple things. The handle of the blade is very simple. It is equipped with two full slabs on the tang. The Matt modified the machete handle to increase the grip, security, and comfort.
The fine finishing of the wood makes it very comfortable with the cutting of brush and chopping of extended chopping of the wood makes it very comfortable on the cutting of brush and chopping of extended chopping.
Applicability
You can use it for different purposes like you can use it in your garden or yard. It can also use it to cut wood. But it has been seen that it is not good enough when the thing comes to chop. From soft grass to hardwood chopping, you can do anything you want. We have tested the product on grass cutting, extended tree hardwood branches, strawberry bushes, and other vegetation. We found it extremely useful for all.
Price
The price tag for this product is highly affordable. You will get a high-quality product without breaking your bank. A worthy investment in such long-lasting products.
Pros
Pocket-Friendly Price tag.
Strong, sturdy, and flexible made.
Compact & Efficient design.
Durable & long-lasting performance.
Unique flat back
Great for lane & path clearing.
Good handle made of wood.
Cuts bushes clean
Extreme lightweight.
Resistant to slippage.
Highly comfortable feel
Good balance.
Cons
Not sharp enough but can be sharpened.
Weak for chopping wood.
Key Specifications
Before purchasing any product, it is always good to look at the product's features and specifications. We have mentioned some of the mandatory specifications you must consider before adding this blade in your cart. Let's have a look.
General
· Latin Style

Blades are fixed.
Sharp & ready for battle.
Bush.

Blade Material
· SAE-1070 one of the best high-carbon steel
Handle Material
· Wood
Sheath Material
· No sheath comes with box (You can purchase separately.
Color
· Metallic Polish
Blade
Overall length
· 23 inches
Length of blade
· 14 inches
Length of Handle
· 5 inches
Blade Thickness at the Handle
· 0.08 inches
Blade Thickness at the Tip
· 0.05
Overall weight
· 332 grams
The Tramontina Machete is extremely thin, long, and light in weight. All these characteristics together, impose great care at the time of using this blade, but this all together makes this machete very handy and useful in gardening. There are rarely spring-steel machetes. That is why you must consider this.
Why should you buy a Tramontina Machete?
Although this machete is not good enough to chop the wood, its thin, sturdy, and versatile nature makes it perfect for the agricultural work. It will make your life much more comfortable once you grab this machete in the palm of your hand. It is highly recommended for those who have a backyard, a farm, or a garden at the back of their house.
Tramontina Machete Review makes it clear that it is one of the perfect replacement for a wide range of gardening tools. Can use to cut the branches, scissors the leaf, wheat sickles, and corn too. You can also try to cut long and tall grass, and honestly, you will be delighted to see its performance.
Above all, the clearing path has never been so easy before. Use Latin style, thin, and flexible machete-like Tramontina.
Key Benefits:
1. Tramontina Machete has become one of the most popular and widely adopted blades due to its user-friendliness & affordability (pocket-friendly price tag).
2. You can easily sharpen the blades, keep its edges in good condition, and above all, it is highly maneuverable.
3. A highly economical and versatile tool that you can easily use for multiple purposes is bushwhacking, chopping off branches, and cutting a path.
Great Cutting Ability
Overall, made of the blades are great and can easily be sharpened, that is the prime reason it cuts well. Even though if you try to cut thick branches, you can easily cut it with Tramontina machete. Secondly, the lightweight nature of this machete allows you to use it for hours without getting tired.
The ergonomics of this tool, including the length, makes it a more effective & great cutting tool. Highly balanced nature & long blades make this perfect machete blade to clear the paths with extreme ease.
For the lighter bushes, this machete cleans them like butter. It is only possible due to highly sharp blades, great balance, and lightweight nature. The wooden handle also provides great strength and stability to this highly affordable machete.
Usage Comfort & Affordability
The handle is considered as a con of this blade, and you can quickly get rid of this problem by using the gloves as this machete is quite light in weight, quick, and flexible. The use of a glove can quickly reduce the shock to your joints when using it recursively.
The price of this machete is one of the main reasons for its hot selling. It is worthy of having such a great blade in incredible affordable price tag. If you are a beginner, this machete could prove a productive and helpful tool to clear the bushes or any backyard work.
Overall a Great Machete: Final Words
The Tramontina Machete undoubtedly is one of the best & top-rated products with a pocket-friendly price tag. There is nothing wrong with the saying that it is admired by most of the blade enthusiasts & yard owners. They praised the versatility and affordability of this machete.
Although there are some shortcomings as well, like the style of handle, dull edges at the time of unboxing can fix them as per your needs. You can use other accessories to make it useful and productive as you wish.
If you compare this great machete of the same class, you found it a superior blade. It is featuring a wooden handle, full tang, & excellent quality steel blades. This Brazilian machete is an excellent addition to your gardening tools at a very reasonable price.
Don't hesitate to let us know your stories with this Tramontina machete review in the comments section.