Measuring a knife's length is more common than you may think. And the reason is simple, there are many uses for knives in our daily activities, from cooking in the kitchen to cutting materials for industrial works, and even for protection against potential harm. And for all these diverse reasons, there are approved knife lengths for them all. All these will be talked about in the course of this guide.

Reasons for measuring a knife's length

Measuring the knife's length does stop at picking up a tape and measuring away. It is also important to know the reason for measurements in the first place. These reasons are:
To know what knife length is considered dangerous according to the legal knife-carry regulation in your country
To measure your blade's length for picking or making the right sheath
To ensure that your knife's length is just right for your purpose of use
How to measure a knife's length

To measure a knife length. It is important to note that precision matters. Measurement starts at the tip of your knife's edge and ends at the point where the knife handle ends. Note that it does not matter where the sharpened end ends; measurement starts where the knife handle ends. If it is a pocket knife, ensure that the knife is fully opened.
What you need:
A ruler or tape for measurement.
A notepad and pen for bookkeeping
The knife itself.
Here are the steps:
Use a measuring tape and place it on the tip of a knife:

it is important to start at the tip and not the knife handle end because there may be a measurement error at the edge since the ruler's zero point doesn't start at the ruler's edge. Also, since the ruler cannot bend, it cannot accurately measure the length since it can't meet the end of the handle. This is the reason a measuring tape is preferred to a ruler when measuring your knife's length.

Look carefully and note the reading:

to avoid parallax error, make sure your eye level is just above the point you want to check. Parallax error occurs whenever your reading becomes more or less than the actual reading because the eye is at an angle to the marking.

Repeat the first two steps for accuracy.
Steps to measuring a sheath template for your knife

If you plan to make a sheath for your knife or buy a knife sheath and the state or country rules do not permit you to bring your sheath to the store, measuring your knife becomes important. To make a knife sheath, it is important to ensure that the template is first made. A template is made to accurately make out your design and ensure that your final sheath is functional and esthetical. A template also allows you to be able to make multiple copies of your sheath in the future.
Unlike measuring a knife's length, when you measure a knife to make a sheath, you need to measure part of its handle about as much as you want the sheath to cover. This is because a knife sheath does cover the metal of the iron and part of the handle, just a little above the knife handle end.
To draw out a template, you'll need:
A cardboard piece
A pair of scissors
An adhesive tape
A pencil
And an eraser in case of errors.
Now follow these steps to measure out your template:
1. Place your knife on the cardboard piece and hold the knife down
2. With your pencil, trace around the blade and about as much as you want to cover with the sheath.
3. Fold the cardboard into two so that when you cut, you have two cardboard cuts.
4. With the cardboard doubled, make a rough cut of the pattern. This cardboard cut should be a little larger than your expected knife sheath size.
5. With your adhesive tape, tape the two cardboard pieces together to give it a 3d shape as your leather sheath should be. This way, you can now adjust the size to fit into your expected design.
6. Trim back the template and even it out. After a few trimmings, you should be ready to get the exact size of your intended knife's sheath.
7. Now that you have gotten your cut-out sheath cut out the tape at the untrimmed edges and flatten your cardboard piece out.
With your knife sheath template already cut out, you can go ahead and cut out your actual leather sheath from the template.
Knife legislation

The government enacts knife legislation to restrict the manufacture, sale, transport, procession, or use of knives. These laws are made to protect their citizens from potential harm; therefore, certain kinds of knives may not be allowed in some countries depending on various factors such as:
Its size or length
Whether or not it is an automatic knife, that is Switchblade.
The intent of the carrier
The niche of the carrier, for example, Knives are not allowed to be carried in the schools, courthouses, etc.
And many more…
Legal blade edge versus cutting blade edge

The legal blade edge is not in any way the same as the cutting blade edge. While the legal blade edge is measured from the tip of the knife blade to its heel, the cutting blade edge measures only the sharpened section of the knife, that is, the part of the knife that cuts. So, when reading about legal blade lengths in your area to know whether or not it is not a crime to carry your knife outside, make sure you measure your knife from the tip of the knife blade to its heel and not only its sharpened area, even if the only sharpened part of the knife is its tip.
Knife legislation in Canada

The law against carrying knives in Canada is not based on the length of the blade but mainly on the carrier's intent. This means that you can carry a samurai sword and just be obeying the law just as much as another person carrying a simple kitchen knife.
The intent in Canada is not only limited to carrying a knife for malicious purposes. It also means that a knife is not allowed to be carried, even for self-defense. So even if you do not plan to use the knife to hurt anyone but plan to use it to protect yourself should you be attacked, in Canada, it is regarded as a crime, and you will be arrested and sentenced to jail for up to five years while your weapon will be seized and destroyed.
Even though Canada allows knives of any length to be carried everywhere, they must be displayed for anybody seeing the carrier to see. A knife hidden is treated as a knife wielded for malicious purposes.
However, there happen to be some knives that are not allowed to be wielded by any person for any reason. Only those who have received an exemption from the Royal Canadian Mounted Police through the Canadian Firearms Program can wield these prohibited weapons. These prohibited weapons are:
Any knife with a blade that automatically opens by centrifugal force, gravity, or hand pressure on a spring, button, or device attached to the knife's handle.
Push daggers: these are short-bladed knives that are wielded in such a way that the blade protrudes from one's fists. It has a T-handle that makes grasping in the fists easy.
Belt buckle knives (constant companion knives)
Finger rings that have blades or sharp objects projecting from their surface.
Conclusion on Methods to Measure a Knife Blade's Length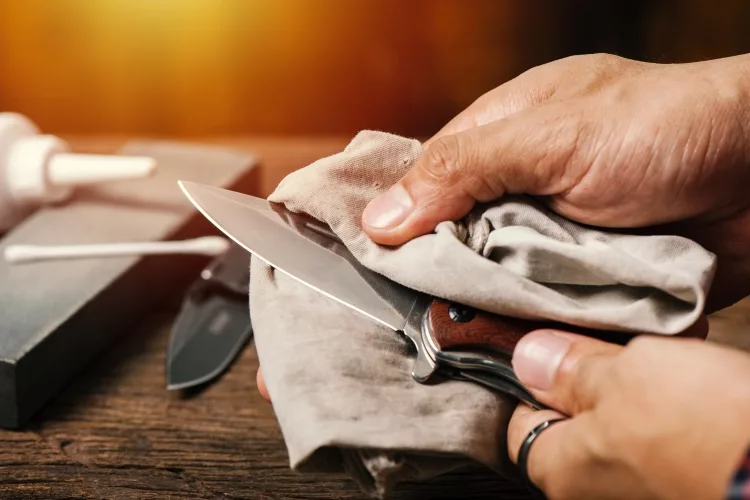 Now you know how to measure your knife for any purpose you may have, and a great new trick to measuring your knife is to make a sheath template for your knife. Understanding the most common laws generic to many countries as regards carrying a knife is now well known. Wielding your knife is now on a whole different knowledge level.