When we look for beer glasses, we must know which one is the most suitable for the beer we are going to serve and that enhances all its properties.
I guess nobody can think of preparing a coffee with milk in a glass of champagne, or pouring a Rioja in a breakfast cup, but instead, many of us have come home on a hot day, we have taken a beer from the fridge and we drank it directly from the bottle as if it were a soda and that is precisely what we have turned it into at that moment, into a soda.
It is not a whim that many beer brands include a glass in the pack, it is not a competition to see who makes the most beautiful or elegant beer glasses , but it is the type of glass in which we should serve that beer to fully appreciate all its features. That's why beers of the same type have very similar glasses. About types of beers we already talk long and hard in this post .
What are the best glasses for beer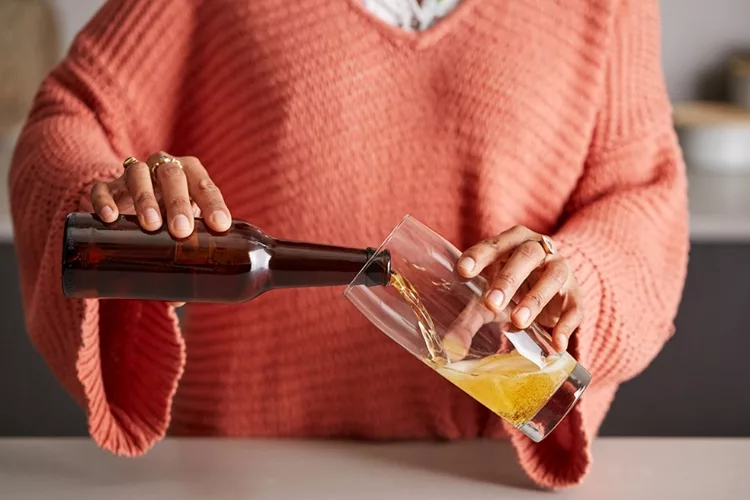 Fine and tall glasses, wide mouth glasses and thick glass, jugs … each design helps to appreciate different characteristics of beers such as foam, aromas and even to facilitate the size of the sips with which they should be drinks.
Glasses for beer pints
They are usually manufactured in two sizes, for pints and half pints. Both imperial version (1 pint = 568 ml) and American (1 pint = 473 ml)
Irish painting (left). It is the well-known glass of Guinness (Irish Stout), and is also suitable for serving Dry Stout, Foreign Stout or Irish Ale beers.
Nonic or English pint glass (center). The typical glass of English pubs where English Bitter, English Pale Ale, Blonde, Amber and Golden Ale, Belgian White, Belgian Pale and Brown Ale, American Pale and Brown Ale, Foreign Stout, English Porter, Black IPA beers are served
Shaker or American pint glass (right). It is used for the same beers as the Nonic glass.
In general, pint glasses favor foaming and invite fast beer.
Jugs for beer
As well as the glasses for pints are the jugs, whose capacity can range between 25 cl of the smallest and several liters in the largest. They are used a lot in Germany.

Classic or American jug (left), Seidel or German jug (center) and Stein jug (right). The jugs dissipate the foam very quickly, they help keep the beer cold since they are grabbed by the handle and the heat of our hand does not pass into the liquid and they invite to drink without breaks. They usually serve German lager beers such as Oktoberfest & Märzen, Vienna, Schwarzbier or Munich Dunkel.
Glasses and glasses for aromatic beers
Snifter Cup (left). It allows stirring to form a whirlpool and the beer gives off all its aromas. It is suitable for American Strong Ale, American Barley Wine, Dunkler Bock, Eisbock, Foreign Stout, Imperial Stout, Strong Porter, Mead, Old Ale, Sour Red / Brown and Stout.
Chalice Cup or Trappist (center). It is the most suitable glass for intense and aromatic beers such as Belgian Trappist and abbey Belgian style IPA, Belgian Strong Dark Ale, Berliner Weissbier, Dubbel, Quadrupel (Quad), Tripel.
Tumbler or Jelly glass (right). It is a glass that invites you to drink at a continuous pace and that thanks to the wide mouth allows you to enjoy all the aromas of intense beers such as Belgian and French ale, Belgian Ale, Belgian Strong Ale, Belgian Witbier, Faro, Fruit or Gueuze.
Glasses and glasses for Pilsen beers

Other glasses for beer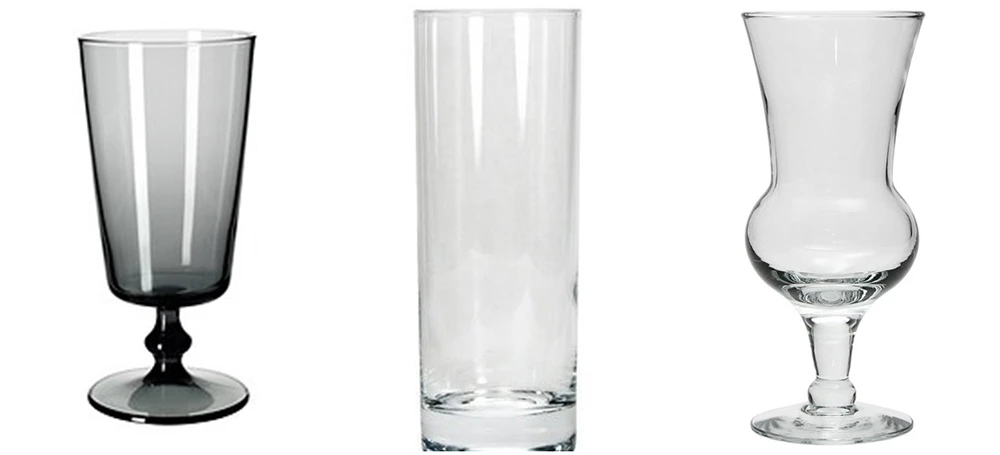 Pokal glass (left). It is a glass halfway between a Pilsen glass and a Shaker glass, it is used for German Bock-style beers such as Heller Bock or Maibock, Eisbock and Dunklerbock.
Stange or tube glass (center). It is a thin and narrow glass that helps concentrate the foam and aromas. It is used for beers such as Altbier and Kölsch.
Thistle glass . Its shape resembles the thistle symbol of Scotland and is recommended for beers such as Scotch Ale, Scottish Ale or Belgian Ale.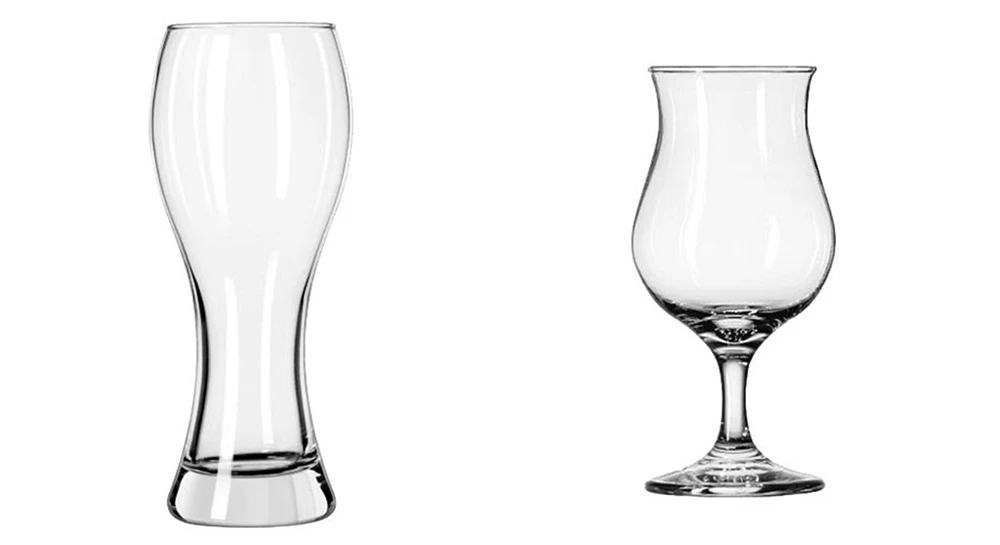 Weizen glass (left). Weizen means wheat in German and it is mainly the beers made from this cereal that are served in it. American Dark, Wheat Ale, American Pale Wheat Ale, Belgian Witbier, Dunkelweizen, Gose, Hefeweizen, Kristalweizen or Weizenbock.
Tulip or tulip cup (right). It is a glass that serves both intense and very aromatic beers and fruity beers. It is the typical glass in which very toasted beers are served with little bitterness and high alcohol content. Like the Strong Pale Ale, IPA, Biere de Garde, Lambic or Belgian Strong Dark.
Special beer glasses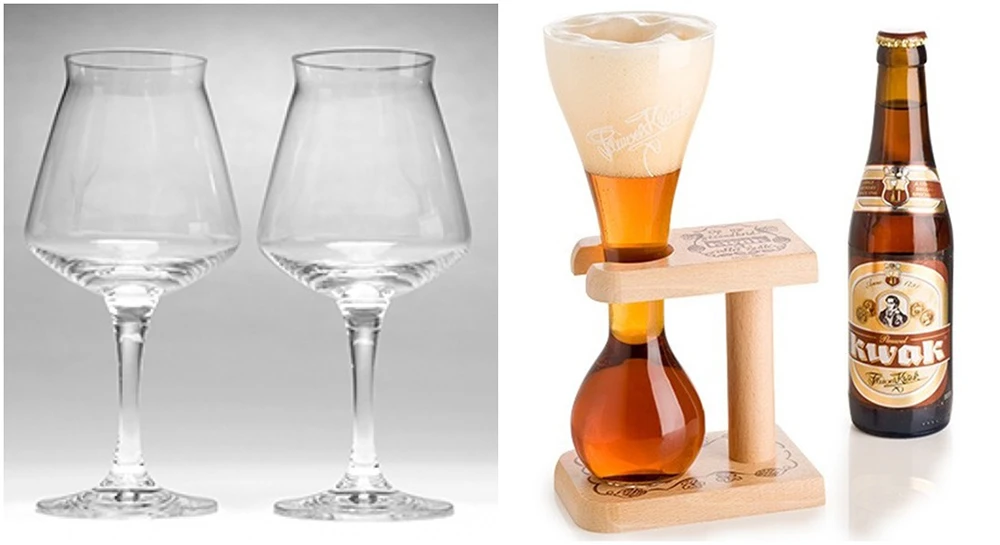 Teku Cup (left). It is a design of the Italian microbrewery Le Baladin specially created to taste very floral and high-grade beers.
Kwak Cup (right). It is a cup reminiscent of a kind of laboratory test tube that is held in a wooden stand that, according to some, is the handle where we should take it to drink, although others say that it should not be drunk like this but that the cup should be taken, take a sip and place it back on the structure.
We hope that with all these tips, from now on you will enjoy even more of your favorite beers.