Flourless Meyer Lemon Meringue Cake
by Hari Won
Guys, I'm really feeling sun deprived. We've had some cold, damp, icy weather these days. Followed by more snow. And more rain. And bone chilling cold. You get the idea. I'm eagerly awaiting the arrival of spring. Desperate for it in fact! I've decided that since it isn't coming fast enough, I'm going to start welcoming spring in early myself! So I've been posting all things sunny and bright on my Facebook page, and pouring over springtime posts from blogs that I follow, and scouring Instagram for some energizing inspiration. I've even been literally stocking up on cheerful, sun-kissed things for the house. I've got some serious colour cravings happening.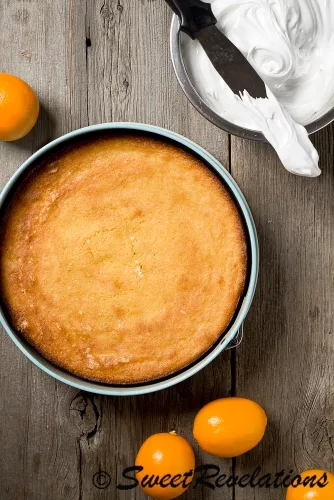 All the more reason to bake this outstanding Flourless Meyer Lemon Meringue Cake. You might say I've gone a bit overboard with Meyer lemon purchases lately, but their bright golden yellow colour just screams happiness to me. They're tart and definitely sweeter than a regular lemon, and they have an almost exotic floral scent. I knew that I would be using some to make a flourless lemon cake, as I've always been completely smitten with Nigella Lawson's Clementine Cake. The idea is similar, in that the whole fruit is included in the recipe. That means the whole Meyer lemon is pureed right into the cake. Four of them in fact.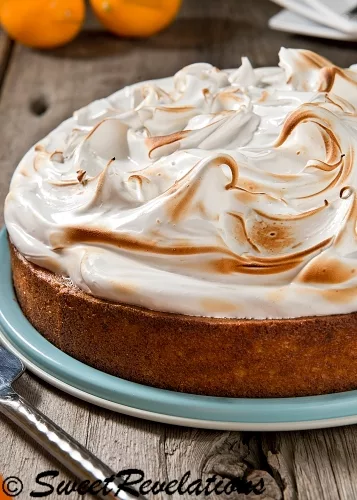 Well, that's a lot of happiness in there if you ask me.
The best news here friends, is that this cake simply gets better with age. It's incredibly moist and bakes up as if it's been drizzled with a lemony syrup or something. You can top it with a dreamy meringue, like I've done here, or you can serve it with a simple dusting of powdered sugar or a lemon glaze at tea time, all are just as good. Either way, the cake is a snap to make, and the lemon flavour is like a sweet kiss from the sun. Your friends will never believe that it doesn't contain any flour what-so-ever.
Honest to goodness, as I was baking this the other night (for the second time in a week!), the sun came out for just a brief moment. It was shining so brightly through my kitchen window that I couldn't help but feel like Mother Nature was hearing my plea. It felt, for just a few minutes, that spring might soon be on its way.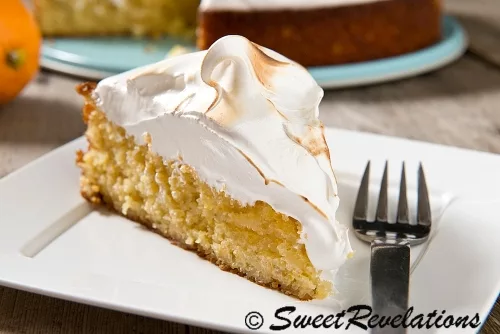 I hope the sun is shining bright wherever you are!
Renee
xo
Flourless Lemon Meringue Cake
5 Meyer Lemons
4 eggs
1 1/2 cups of sugar
3 cups almond meal
1/4 tsp salt
1 1/4 tsp baking powder
Meringue Topping:
6 egg whites
2 cups of sugar
Preheat oven to 350° and spray a 9 inch springform pan with non stick spray and line the bottom with parchment.
Mix the almond meal, salt and baking powder in a small bowl and set aside. Place 4 of the lemons in a pot and cover with cold water. Bring water to a boil and continue boiling the lemons for 25 minutes. Remove from the water and set aside until cool enough to handle. Once cool, cut the lemons in half, remove the seeds and puree the whole lemons until smooth. You will need 1 cup of puree. Set aside.
Zest the remaining lemon and place in a medium bowl with the sugar. Using your fingers, rub the zest into the sugar. Add the eggs and beat for at least 5 minutes until mixture is pale and increased in volume. Slowly add the almond meal and mix just until combined. Pour into prepared springform pan and bake for 45-55 minutes, until center is slightly springy when touched. Allow cake to fully cool. Remove from pan and place on serving platter.
For the meringue, you will need a stand mixer. Fill a saucepan (large enough to fit your mixing bowl just a few inches) with a few inches of water. Bring the water to a boil, then reduce heat to med-low so water continues to simmer. In your stand mixer bowl, hand whisk the egg whites and sugar just until combined. Place over simmering pot and whisk for approx 4 mins until the egg whites are hot (about 150 degrees). The sugar should be dissolved by this time as well. Place bowl on stand mixer and attach the whisk attachment. Whisk on medium until whites have increased in volume and the outside of the bowl is just slightly warm to the touch. Use immediately to ice the cake. Use a kitchen torch to toast the meringue. The cake will keep well in the refrigerator for a few days. Enjoy!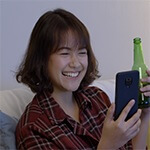 About Hari Won
Hari has been a close friend with Josh since kindergarten. Her place is right around the corner from Josh's.
She claims they are only friends. Hari also loves to drink. By accident, she tried her first taste of beer in middle school; felt in love with them since then.
Life has been up and down lately for Hari. She and/or other friends often meet up with Josh for a few packs. They may drink through the night, while taking turn to tell their life stories.
Hari received her BS degree in biochemistry from University of Phoenix. She hoped to become a great brewmaster someday...
Thoughts on "Flourless Meyer Lemon Meringue Cake"