Dealing with frozen ground beef can be very challenging. It requires your full focus to ensure that you do not spoil the meat, injure yourself, or ultimately make a mess of everything when all you want to do is prepare a delicious dish for you and your loved ones to eat and enjoy.

To many, they hear "ground beef" and think, "hamburger!" But the truth is, whether you plan to prepare the perfect hamburger for your buds, or any of the other popular dishes; such as your sausages and cottage pies, or you plan to invent a whole new dish for yourself, it all boils down to one thing, and that is, getting the best out of your ground beef.
As it is well known that dealing with frozen ground beef can be tricky most times, today we aim not only to explain how to cut make a clean cut of your frozen ground beef but also to give some tips, tricks, and recommendations on how to cook the perfect meal for you and your friends.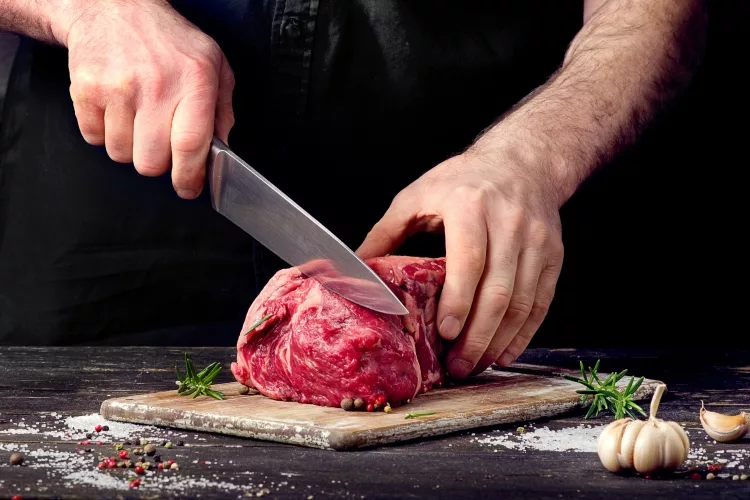 Tools used for cutting a beef
How to cut a frozen ground beef
Why should you defrost your frozen ground beef
Methods of defrosting your frozen ground beef

There are many tools out there that are often used to make a great cut of your beef.
The most common is the kitchen knife, which can d9 the work when it is sharp enough. However, to make a clean and effortless cut of your frozen ground beef, a knife with serrated blades is best and recommended.
The electric blade is a better tool than the manual knife tool in terms of effort and speed. All you have to do is press a button, and with little effort, it starts the cutting process. However, be careful with the handling, as a moment of carelessness while pressing the button can hurt you or others around.
The butcher's saw is a less common kitchen tool as it is mostly used by butchers who specialize in cutting meat. The butcher's saw is strong and sharp enough to cut meat and bones easily, which makes it a great tool for cutting frozen ground beef.
If you plan to make your frozen ground beef slices, you can get the meat slicer machine. A meat slicer machine is a manual tool that cuts big chunks of meat into slices fairly easily. There are different types of meat slicer machines in the market which are easy to use.
How to cut a frozen ground beef

Whether you're using your kitchen knife, an electric knife, or the butcher saw, making your cut on frozen ground beef is fairly easy.
Before cutting, ensure that you're wearing a protective glove to protect you from knife slips while making your cuts the follow these steps:
Immerse your frozen ground beef in water for a minute or two. This way, the surface of your frozen ground beef is softer and less slippery, and the blade of your knife can easily rest on a particular point before cutting.
Place your frozen ground beef on a cutting board.
With one hand firmly holding your beef in place, place the teeth of your knife on the point you want to cut into and ensure your hand is well-positioned.
Now apply force and cut into your beef, making a push-pull hand movement.
You can change sides and cut around a particular line whenever you find it difficult to cut further from one side.
Why should you defrost your frozen ground beef?

While cutting your big chunk of beef is possible without defrosting it. It is not often encouraged. Here are the reasons:
1. It destroys the knife's edge: it is not uncommon for your knife edge to get blunt over time; in fact, it is expected. But using your knife to cut frozen ground beef quickens the process exponentially, eventually leaving your knife useless when needed for other kitchen activities.
2. It wears out slicer machines and electric knives: meat slicer machines make cutting easier for its users. But while using it to cut hard frozen ground beef, we tend to put a lot of pressure on the machine; the same goes for using an electric knife. Therefore, in addition to making the machine's blades blunt, the machine itself becomes less sturdy over time due to continuous overwork. This makes the machine fail over time.
3. Cutting a frozen ground beef can get messy: as it is big, it tends to be too difficult to handle. The beef tends to get slippery while trying to hold it down hard to cut, while it may make it slip away multiple times, causing a mess everywhere.
4. There is an increased risk of kitchen accidents: because frozen ground beef is harder to cut than defrosted beef, more force is needed to cut. Due to the slippery nature of the beef, the knife can slip and cut you in the kitchen while you're trying hard to force the cut. The frozen ground beef can also fall and injure your feet, thereby causing a loss in two ways, you don't get your hamburger, and you also get injured in the process.
Because of the reasons stated above and more, it becomes important to learn how to defrost your frozen ground beef so that it can be easily cut, thereby ensuring a smooth cut in an accident and stress-free environment.
Methods of defrosting your frozen ground beef

There are several ways to defrost your frozen ground beef; these methods differ in time spent, the effort needed, and whether or not you want to use all the frozen ground beef. Below and the common methods used when defrosting frozen ground beef.
1. Using a refrigerator:
This method involves placing your frozen ground beef inside the refrigerator and allowing it to thaw out over time on the refrigerator. Instead of just putting it out there in the open air, a refrigerator is used simply because of two things.
The refrigerator is higher than the freezing temperature, which means anything freezing inside it is melted down.
The refrigerator is colder than what is needed for bacteria to breed on the beef.
These two, coupled with the fact that your ground is not left in the open air, are the reason why it is a good choice for defrosting your meat.
Method
Wrap your ground meat in a flat sealable bag. This is so that the frozen water from the beef does not make a mess of your refrigerator as it thaws.
Place your wrapped beef in the refrigerator.
Wait for 3-24hrs for it to thaw in your refrigerator. It takes about 24 hours for 1 pound of frozen ground beef to thaw completely in the refrigerator. Depending on the size of your beef or whether or not you want to use it all at once, you may not need to wait that long.
As you can see, this is a slow but effective method for defrosting your frozen ground beef. But if what you need is a quick method, then read further.
2. Continuous immersion in water
this is a quick and effective method of defrosting your frozen ground beef.
Method
Take a big bowl and fill it with water.
Immerse your frozen ground beef in the water.
Change the water to a fresh one every 20 minutes.
Repeat step 3 until the beef is defrosted.
Depending on the size of your frozen ground beef, this process may not take up to an hour as a great portion of your roast beef is already defrosted on the first immersion.
3. Using a microwave
This is one of the quickest methods of defrosting your beef.
Method
Put your frozen ground beef on a plate and gently heat it inside the microwave.
At even intervals, turn your beef so that the defrosting process is even on all sides.
Repeat until defrosting is complete.
It is important to note that you should only use a microwave to defrost your ground beef if you plan to cook it immediately after defrosting. This is because heating the meat has made the bacteria in the meat to be active. A delay in cooking may cause the meat to go bad, which will affect the taste of your dish.
4. Using a pressure cooker
A pressure cooker, just like a microwave, is a very quick method of thawing your frozen ground beef. And just like it, it makes use of heat.
Method
Pour about half a cup of water into the pressure cooker.
Place a trivet in the pressure cooker.
Put your frozen ground beef on top of the trivet.
Close your pressure cooker and ensure that it is sealed.
Heat at high pressure for about 5 to 10 minutes. It takes about 10 minutes to defrost a pound of frozen ground beef.
Just like the microwave, ensure that you're ready to cook the beef before defrosting it using the pressure cooker.
Conclusion
Now that you know all the tips and tricks to cut your frozen ground beef, you now have the superpower to take your cooking to the next level. So why don't you get started?