Before purchasing any machete for any purpose, you might have a ton of questions in your mind. You want to find out the answer before investing your money. The best way to get answers is by going through machete reviews.
In this Cold Steel Kukri Machete Review, you will be going through every bit of information to find out if this is the best tool for you.
The Kukri Machete is one of the most admired and popular machete model of Cold Steels. Highly affordable & genuinely a worthy investment.
This great Kukri Machete Plus from Cold Steel is highly capable of doing the toughest and hardest jobs. It is equipped with a fully sharpened (1055) Carbon steel blade, and the surface is black matted to an anti-rust finish. The high-end quality of the edge makes it superior among the other products in the same range.
The intense Polypropylene handles of this cold steel kukri machete are designed to give a comfortable grip, and the handle is sufficiently sturdy to oppose chipping, breaking, or to crack,
so, practically, you can say that it will last forever. Let's go through Cold Steel Kukri Machete Review extensively and explore its features.
Cold Steel Kukri Machete Review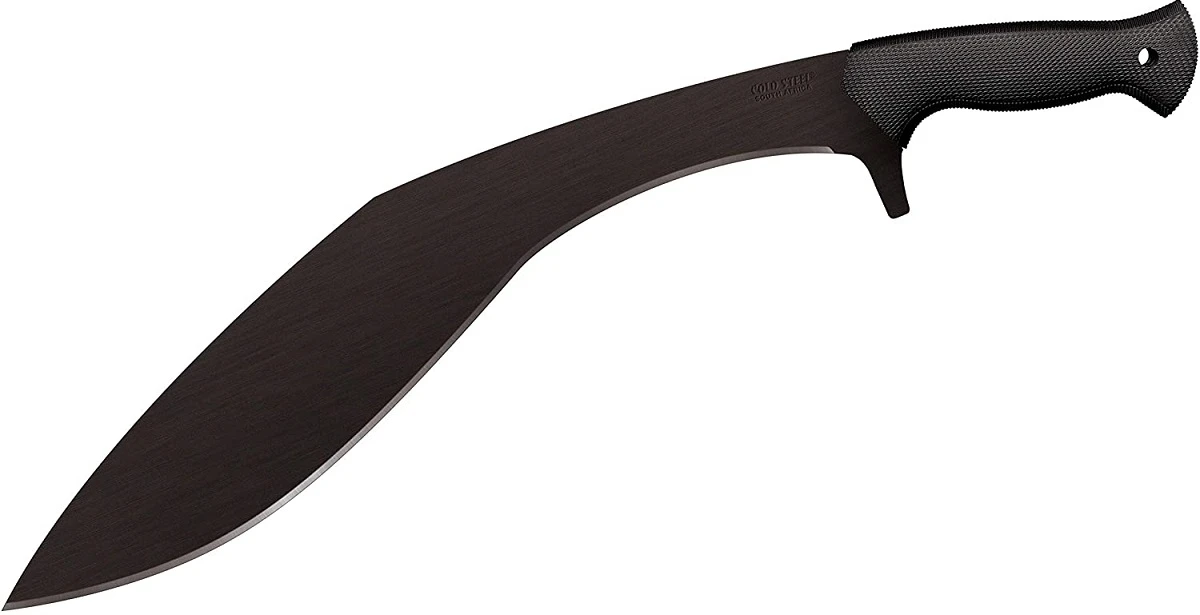 This cold steel kukri knife is available with a highly affordable price tag. The shape of this machete is designed by keeping in view the traditional kukri pattern. Originally, this machete is using in Gurkhas, Nepal.
But the original kukri is very expensive and not affordable for everyone. That is why Cold Steel manufactured this Kukri Style Machete for those who need an excellent tool. At the time of unboxing, the edges of the machete are not very sharp, but that makes sense.
Because this machete is specially designed for chopping purposes, that why not need to highly sharpen, but you can sharp it later as per your usage with little effort. Highly productive in pruning the blackberry bushes, cutting of bowed branches of trees, and other crops. Once you are done with it, you can store it in a nylon case that's included in the package.
First Impression of Cold Steel Kukri Machete
Highly affordable.
• Comfortable & Secure grip.
• Not sharp must initially, but later you can sharp the bait as you wish.
• The blade is sturdy and rust-resist finish.
• The heft is quite decent.
• Excellent balance.
• Some are concerned about the durability of the handle.
List of Stuff we have Tested this Cold Steel Kukri machete
Cutting of tree branches & brush.
• Small stick cutting in garlic dicing style.
• Roots cutting.
• It is tested against the free-hanging rope.
• Impact with tiles & slabs.
• Cut a piece of a nail.
• Cut the cord of the TV antenna.
• Accidental impacts (approx 5 feet height) with the tiles and slabs.
The nail & tile impacts didn't cause any kind of deformation. You are at liberty to use it for different sorts of tasks, for instance, in your garden or backyard. It is exceptional when things come to chopping from soft grass to hardwood, and you can do anything you want.
Key Specifications
| | |
| --- | --- |
| Blade Finishing | Black coating anti-rust |
| Blade Pattern | Traditional Kukri Pattern |
| Type of edge | plain edge |
| Angle of Sharpening | Western Angle |
| Use | Survival, Camping, Clearing of Brush. |
General information
| | |
| --- | --- |
| Brand | Cold Steel |
| Color | Black |
| Warranty on materials and manufacturing defects | Two year |
Material
| | |
| --- | --- |
| Handle Material | Polypropylene |
| Steel | 1055 Carbon steel |
| Sheath Material / Pouch Material | Nylon |
Sheath Included
Dimensions & weight
| | |
| --- | --- |
| Overall Weight | 520 grams |
| Blade height | 7.2 cm |
| Blade length | 33 cm |
| Total Length | 46.5 cm |
| Thickness of Blade | 2.8 mm |
| Length of Handle | 13.2 cm |
Pros & Cons
Pros
Reasonable Price tag.
Strong, sturdy, and flexible made.
Traditional Kukri shape pattern
Durable & long-lasting performance.
Anti-Rust finishing.
Great tool for clearing, camping, survival, and outdoor activities.
Firm & sturdy grip.
Sheath included.
Extreme lightweight (1 oz).
Highly comfortable feel
Good balance spot.
Cons
Not sharp enough at the time of unboxing, but that makes sense of chopping.
The Handle can go a bit tough on hands while using it for hours.
Why should you buy Cold Steel Kukri Plus Machete?
There is a lot to cover yet in Cold Steel Kukri Machete review to entertain the users with best & unbiased knowledge. As we promised, you will get bit by bit information about this cold steel machete.
Blade of Cold Steel Kukri Machete
The best quality machete must be made up of high-quality steel, and it must be hard but easy to sharpen. The blade is 1055 Carbon steel that is best to use for different purposes. For testing of the blade, we have batoned, carved, and chopped with it as far as cutting of forest brush and other such stuff we found its exceptional performance.
As far as batoning is concerned, it is average but not exceptional. Because the best machete for batoning must have 5 mm thickness, but this blade is very light in weight as compared to its overall size that why it is not good enough for batoning.
But the chopping with this kukri design machete is admirable. The only thing is that it lacks blade thickness. But a whole it is one of the best machetes of Cold Steel for chopping wood.
The retention of blades is decent, so it is straightforward to resharpen it and get high sharp edges. A cylindrical diamond sharpener is highly recommended to sharpen the edges.
When you get the new Cold Steel Kukri Plus Machete, the edge is coated as well, so you can utilize a grinder wheel of stone, plunged in chilly water to get rid of the black coating by the edge and resharpen it.
You can test the paper cutting to check out either it is sharpened correctly or not. The most prominent feature of the Cold Steel Kukri knife blades is the overall toughness.
It is undoubtedly exceptional. It is the only blade available in the market that is not destroyable entirely. You can watch the toughness of the blade on YouTube. Simply search "Noss4" and see how incredible a blade it is.
Handle
The handle of this cold steel knife is excellent, and it will fit in your palm. The length of the handle is 13.2 cm that is large enough can comfortably accommodate large hands too.
It is made up of Polypropylene that is a mixture of rubber and plastic. Polypropylene is highly resistant to humidity and heat, so there is no need to be worried at all of cracking while you are camping in dark forests.
The handle is also very sturdy and far much better than other products of the same class. It has a full tang. And the tang is much more comprehensive and not having a rat tail.
The handle offers a secure and firm grip, but while using consistently for hours, it can go a bit rough on hands. That's why wearing gloves is highly recommended.
The handle has a big lanyard hole & beautiful 3D checkering. The only thing you can consider as a disadvantage is that it can be sturdy for hands when using for hours.
Sheath
The sheath is not pretty fair, but it is unfair to expect a lot at such a low price. It is made up of medium quality Cordura while having a little bit of plastic coating at the bottom of the sheath. From the bottom, it is not stitched; actually, it is revised.
But I wish the Cold Steel will provide some excellent SecureEx Sheath for all of their professional machetes or at least as an optional item. But as a whole, it works fine for kukri machete. The word "Not pretty fair" doesn't mean that it is hopeless, but it doesn't exactly match with the machete itself.
Applicability
In Cold Steel Kukri Machete review till now, we found it an excellent tool, and undoubtedly, it is a good value for the investment. Very tough, cool-looking, and unable to destroy completely. For this price tag, you will not get much better than this.
It is the best machete for survivors, outdoor camping in the forest, garden keeping, military use, and other purposes. If you genuinely are a fan of the kukri pattern knife, this is the best option for you.
Cold Steel is manufacturing several kukri knives, but among the whole product line, this kukri knife is the best and highly affordable.
Buy on Walmart, eBay, Etsy (subject to availability)
Cold Steel Royal Kukri Machete - 97KMIGS - Walmart, Etsy, eBay
Conclusion
I must say that Cold Steel Kukri Machete is one of the finest and best quality pieces of a machete in their product line with a highly affordable price tag. Several comments and reviews of customers are there admiring the top-notch performance of the CS machete.
While on the other hand there are some concerns as well related to its handle but for such a low price you are getting much more than your expectations. A sheath is also included in the package. All in all, you will find it a superior blade when compared to other blades. And it's all real.
We welcome you warmly to share your own stories with Cold Steel Kukri Machete Review below in comments.
Meta Description - Cold Steel Kukri Machete is a Traditional Kukri Pattern Blade with a 2.8 mm thick steel blade and a 33 cm long blade. Sheath included with the highly affordable price tag.