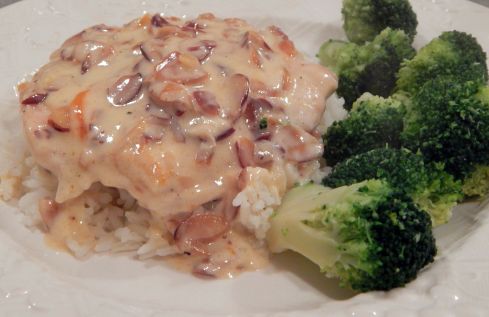 Creamy Almond Chicken
This is my all time favorite chicken dish! It makes an impressive meal when you are having dinner guests because it is definitely a crowd pleaser! To top it all off, it is very simple with few ingredients!
For 4 servings, here is what you will need: 4 chicken breasts, 1 1/2 c. slivered almonds, 1 1/2 c. whipping cream, 2 tbsp. orange marmalade, 1 tbsp. Dijon mustard, a pinch of red pepper (optional), and 4 tbsp. margarine.

First, sauté 1 1/2 cup slivered almonds in 1 tbsp. margarine until golden brown. Set aside.

Next, place the chicken breasts between sheets of wax paper and pound them out until they are 1/4 inch thick.

Melt 3 tbsp. margarine in a skillet, salt and pepper the chicken then brown it for 3-4 minutes.

In a bowl add and mix the following: 2 tbsp. orange marmalade

1 1/2 cup whipping cream

1 tbsp. Dijon mustard

A pinch of red pepper

And finally, the sauteed almonds.

Pour the mixture over the chicken and continue to cook until the chicken is done and the sauce has thickened (about 10 minutes).

YUMMY!

Serve over white rice and pair it with broccoli for a completely delectable meal!