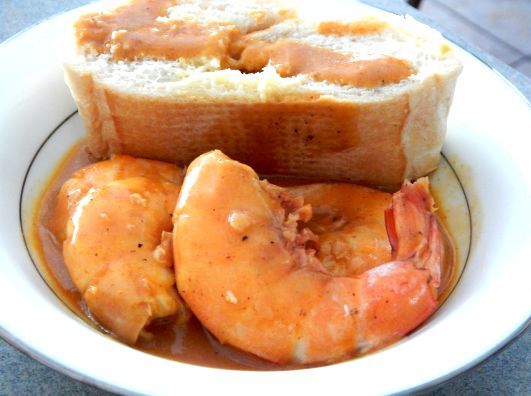 Bread Dippin', Finger Lickin' BBQ Shrimp!
This is a dish that my husband first cooked for me when we were dating and may be one of the reasons I married him!
I am a shrimp lover in the first place, but this sauce is out of this world! It simply calls for French bread dipping! On top of that, it is such an easy recipe.
Ingredients:
1 lb. large fresh shrimp
1 stick real butter
Sauce Ingredients:
2 tbsp. Creole Seasoning (we use Tony Chachere)
1 tbsp. each garlic and onion powder
1 tsp.sugar
1 cup Sweet Baby Rays BBQ sauce (or your favorite BBQ sauce)
1 tsp.Tiger Sauce(a tangy and spicy sauce made with cayenne peppers)
1 tbsp. mustard
1 cup Ranch dressing (we usually mix our own with a packet of Hidden Valley Buttermilk Ranch Dressing mix, but you could also use store bought bottled Ranch)


Place the fresh shrimp in a Pyrex dish.
Mix the sauce ingredients in a separate bowl.


Slice 3/4 stick of butter and spread over the shrimp.


Pour mixed sauce over the shrimp.


Cover with foil.


Bake at 350 degrees for about 10 minutes. Remove and let sit at room temperature for at least 5 minutes before serving. Serve with french bread for dipping.